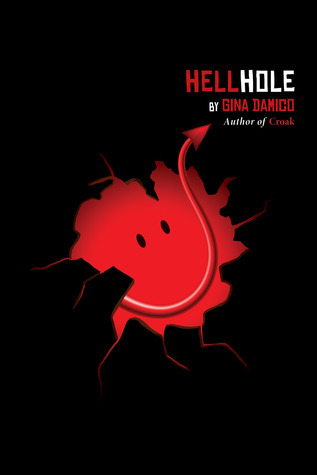 Title: Hellhole
Author: Gina Damico
Genre: Fantasy
Publisher: HMH Books for Young Readers
Publication Date:
January 6th 2015
Summary:
There was a time when geeky, squeaky-clean Max Kilgore would never lie or steal or even think about murder. Then he accidentally unearths a devil, and Max's choices are no longer his own. The big red guy has a penchant for couch surfing and junk food—and you should never underestimate evil on a sugar high.

With the help of Lore, a former goth girl who knows a thing or two about the dark side, Max is racing against the clock to get rid of the houseguest from hell before time, and all the Flamin' Hot Cheetos this side of the fiery abyss, run out.

AMAZON

|

BARNES & NOBLE

|

THE BOOK DEPOSITORY

|

GOODREADS
Hellhole was such a strange book that I couldn't help but love every second of it. I am a big fan of Gina Damico and knew she wouldn't let her fans down and guess what? She didn't! I loved her Croak series and knew that I would love this one as well. Hellhole was fun, humorous and crazy weird!
I made the mistake of reading Hellhole in school and got a few dirty looks from my English teacher as I tried to contain my laughter. Gina has a talent to make her readers laugh, sometimes until sometimes until the point that there are tears in their eyes. Hellhole is full of dark humor. (While you check out Hellhole if you haven't looked into some of Gina's others book you should really get on that. All of her books are highly recommended!)
I couldn't help but love Max, though I didn't connect with him which I like with a book, but he was lovable. At first I was weary of him, but he is so nerdy and awkward and reminded me of myself that I couldn't help it. What I loved the most was that Max messes up, a lot. He stole a bobble head, made a deal with the devil, and is a bit greedy. But he has good reasons for doing some of those things too.There where a couple of moments that I had second hand embarrassment for Max, he has virtually no social skills. He can barley speak to the opposite sex and when he does it is usually something stupid, like about veal. I liked Lore too, though I still lacked that connection. Her hatred for the human race and bedazzled shirts make her another odd character to add to my folder of "weird characters".
Burg (one of the 666 devils there are) made this whole book. He was the bad guy of course, but he played it well. Being that Max stole Burg made his way up to the surface and literally made Max his bitch. "I want this... I want....I want...I want..." and Max had no choice but to do this things for Burg or their deal was off and someone he cared about would die. Burg had fun getting to boss Max around this whole entire book, this was a vacation to him. Though I will admit it was entertaining.
Overall I did enjoy Hellhole, though I will always be partial to Croak. The whole lesson you'll get out of this story is to not make deals with the devil.
RATING:
About the Author:
Gina Damico is the author of Croak, Scorch, and Rogue, the grim-reapers-gone-wild books of the Croak trilogy. She has also dabbled as a tour guide, transcriptionist, theater house manager, scenic artist, movie extra, office troll, retail monkey, yarn hawker and breadmonger. A native of Syracuse, New York, she now lives outside Boston with her husband, two cats, and one dog, and while she has never visited hell in person, she has spent countless waking hours at the Albany Regional Bus Terminal, which is pretty darn close. Visit her website at www.ginadami.co.
We are giving away a Hardcover copy of HELLHOLE to TWO WINNERS

Giveaway is open to anywhere The Book Depository ships.

Giveaway ends on January 21st at 11:59 p.m. Pacific.
Hey there book fans! I'm running a Follow Frenzy giveaway over the course of this blog tour, and the prize is pretty neato: a signed copy of HELLHOLE wherein each chapter will have a little bit of trivia and/or a doodle handwritten by yours truly. (Gina) (Damico) To enter, all you have to do is follow me on one or more of my various social media outlets (Twitter, Facebook, Tumblr, Instagram, Youtube), then fill out this adorable little form here. That's it! The more things you follow, the more chances you will earn to win. Good luck!
Tour Schedule:
Week One
Week Two