It's officially 2020, which means it's a clean slate in terms of resolutions. So that's what we're doing here on the blog today -- first, we're going to be analyzing our 2019 resolutions to see which of those we've achieved, and then we'll talk about our goals for 2020! So without further ado, let's get into it.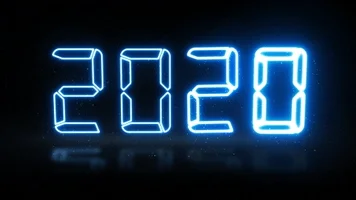 1.
Comment back on other blogs more often.
We are still super guilty of not doing this as much. Definitely something for us to keep working on!
2. Limit our requests of digital ARCs a little bit.
We actually scaled back a little bit this year, and we were having a much easier time keeping up with our review schedule! Time to chalk this one up as a win!
3. Keep up with writing reviews.
Woo! Another one that we kept up with!
4. Read more books -- duh!
We definitely read a little less this past year than we did in previous years, as we get closer to graduating college and our responsibilities start piling up...but we still read a pretty good amount of books this year!
5. Review more of the books that we read.
We did this one, too! We've reviewed almost every book that we read this year!
6. Bookstagram more often.
We posted on our Instagram a lot more regularly this year, and even managed to surpass 1.1k followers! Score!
7. Attend BookExpo again.
Yesssss, this was our second year and we had even more fun this time!
8. Make even MORE blogging friends!
Because you can never have too many friends. Definitely made so many new friends at BookExpo this year!
9. Stay active on our other social media platforms more.
We made a much better effort to stay active on our socials this year, and not only did we manage to do that, but we made so many great friends in the process! This one was definitely a win!
All in all, it looks like we accomplished pretty much everything! 2019 was a great year for us and we are looking forward to 2020! And now for....
1. Read more books! A repeat from last year, especially since we fell behind a little bit. So we're hoping to rectify that in 2020!
2. Review more books! Similar to #1! We did really well with that last year and would love to keep the good work up!
3. Attend more book signings and events. We always say that we're going to go to them, but then classes and homework end up getting in the way. This year, we want to attend more NYC book events! Speaking of which...
4. Attend BookExpo again! It's going to be our third year, and we feel like we definitely learned a lot more last year (especially about the hotel situation), but then Amber broke her ankle and had to go home, so hopefully we can go again this year and have an even BETTER time!
5. Work with more debut authors. We started working with 2019 debuts on a whim last January, and it became a project that we absolutely loved last year, so we'd love to work with even more debuts in 2020!
6. Getting a job in publishing. We are graduating college, and trying to be CONFIDENT by putting this out into the world, so (hopefully) let it be so!
7. Consistently post on Instagram. In 2019 we did a a good job at posting on Instagram and reaching 1.1k followers, BUT we posted very sporadically. This year we hope to change that!
8. Dive into genres that are out of our comfort zone. We think this one speaks for itself. Amber especially really wants to begin branching out from Science Fiction and Fantasy.
9. Become more fluent in Photoshop. This is one is aimed more towards Amber. She's always been behind the designs and graphics here at The Book Bratz, but this year she wants to take it to the next step.
10. Have our own domain. We hope we will be able to become The Book Bratz dot COM instead of our current arrangement!
So those are our blogging goals for 2020! What are yours? Comment down below and let us know!
Here's to a great start to an amazing 2020!