Waiting on Wednesday is a weekly event where we highlight the upcoming releases that we can't wait to read! Do your own Waiting on Wednesday post and put your link in the comments down below so we can stop by and check it out!
This week, Jessica is waiting on...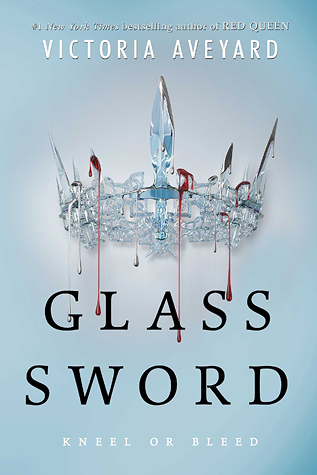 Title: Glass Sword
Author: Victoria Aveyard
Publisher: HarperTeen
Publication Date: February 9th, 2016
Summary: Mare Barrow's blood is red—the color of common folk—but her Silver ability, the power to control lightning, has turned her into a weapon that the royal court tries to control.

The crown calls her an impossibility, a fake, but as she makes her escape from Maven, the prince—the friend—who betrayed her, Mare uncovers something startling: she is not the only one of her kind.

Pursued by Maven, now a vindictive king, Mare sets out to find and recruit other Red-and-Silver fighters to join in the struggle against her oppressors.

But Mare finds herself on a deadly path, at risk of becoming exactly the kind of monster she is trying to defeat.

Will she shatter under the weight of the lives that are the cost of rebellion? Or have treachery and betrayal hardened her forever?
Jessica says: I am so excited to get my hands on this book! Amber and I both read Red Queen, the first book in the series, and absolutely loved it. It reminds me of a twist between The Selection and The Hunger Games, which are both series that everyone knows and loves. I'm super excited to finally be able to read this book - February can't come soon enough!
What are you waiting on this week? Comment down below and let me know - I love hearing what everyone's weekly picks are!