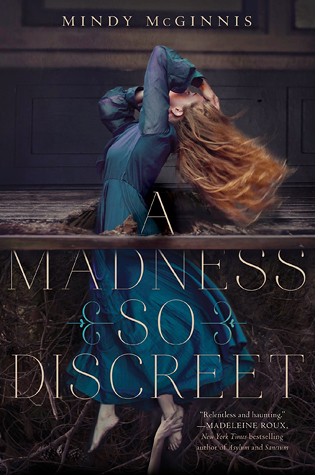 Title: A Madness So Discreet
Author: Mindy McGinnis
Rating: 4/5 Stars
Publisher: Katherine Tegen Books
Publication Date: October 6th, 2015
Add it on Goodreads!
Read Amber's Review!
Summary: Grace Mae knows madness.

She keeps it locked away, along with her voice, trapped deep inside a brilliant mind that cannot forget horrific family secrets. Those secrets, along with the bulge in her belly, land her in a Boston insane asylum.

When her voice returns in a burst of violence, Grace is banished to the dark cellars, where her mind is discovered by a visiting doctor who dabbles in the new study of criminal psychology. With her keen eyes and sharp memory, Grace will make the perfect assistant at crime scenes. Escaping from Boston to the safety of an ethical Ohio asylum, Grace finds friendship and hope, hints of a life she should have had. But gruesome nights bring Grace and the doctor into the circle of a killer who stalks young women. Grace, continuing to operate under the cloak of madness, must hunt a murderer while she confronts the demons in her own past.
I received an ARC copy of A Madness So Discreet at BookCon this past May. It was one of those secret ARCs that you could only nab if you knew the secret password - which was, humorously, the word discreet. I hadn't heard anything about it before, but at BookCon I was in such a crazy ARC-grab mode that I was grabbing anything I could get my hands on to give all sorts of books a fair shot. And I'm really glad that I did!
This book is a historical fiction novel that centers around several topics, new and old, some of which can be relatable to today. This book deals with 1800-era American society and the hysteria deeming everyone insane and fit for the asylum. Some of the things that landed patients in these places were certifiably legitimate mental health issues. Others, however, were classified as insane for things that definitely wouldn't classify as insane in today's society - hatred towards your husband, rape victims, promiscuous women. Those things don't classify people as mental patients now, but in the 1800's, they did.
The book is told in third person point of view, and the main character is Grace, a young girl of the era who landed in the asylum for becoming pregnant before marriage. It's the fact of who her baby's father is that you don't start off knowing, but you eventually figure out. And it'll definitely shock you.
So after a whole bunch of twists and turns that I won't discuss so I don't spoil the book for you, Grace ends up as an assistant to a young doctor named Doctor Thornhollow, who studies criminal psychology and works with mental patients. Seeing Grace's sharp eye for detail and her limitless potential, he enlists her help in going to crime scenes and putting together the pieces of who the culprit is. (Keep in mind that there was no sort of DNA-testing that could be done during this time period, so finding criminals was a much more difficult job.)
So Dr. Thornhollow and Grace become a criminal-hunting team, searching for the man behind a string of murders that are all taking place around the asylum - although the staff starts to expect that they're creating more than a working relationship. (Spoiler: I really wish they got together at some point in this book. That would have been so great. I was rooting for them because I really liked Thornhollow but NOOO D:)
I loved all of the characters in this book - especially Grace, Thornhollow, Nell and Lizzie. All of them had unique sets of traits and problems and you were introduced to a lot of diverse people. Nell was definitely one of my favorite characters, because of the story that landed her in the asylum and also just her personality and funny quips in general. Thornhollow, even if stubborn and scatterbrained at times, was sweet and kind to Grace and showed her a great deal of respect that many women in that generation wouldn't receive, which makes him another one of my favorites.
Spoiler: I still just wish they got together.
I'm not quite sure if this book is a standalone or a series (Goodreads hasn't hinted at it yet), but I could see it ending either way. I still would want more relationships (*cough*) to be formed in the next book (if there is one), and possibly some more plot resolving, but if not, the story doesn't leave you with an ending where you have no idea what comes next. It leaves you pretty satisfied, which is good.
All in all, A Madness So Discreet is a gripping historical fiction that deals with rape, insanity, and the struggles of Grace to overcome the horror of her past and build for herself a decent future. I really enjoyed this ARC and I'm so thankful that I managed to snag a copy! I'd definitely recommend this book to any YA reader, historical fiction fan or not. It definitely has gripping qualities that everyone can enjoy. I really, really liked this book. :-)
Rating:
DISCLAIMER:
I received an ARC copy of this book in exchange for an honest review. Neither author Mindy McGinnis nor the publisher received a copy of my review (or had any prior knowledge of it) before its publication on The Book Bratz on the 13th of September, 2015.