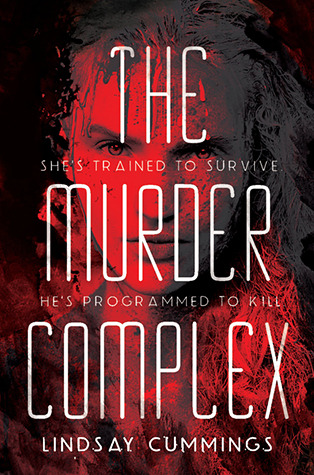 Title: The Murder Complex (The Murder Complex #1)
Author: Lindsay Cummings
Genre: Dystopia, Science Fiction
Format: Hardcover
Publisher: Greenwillow Books
Published: June 10, 2014
Summary:
Meadow Woodson, a fifteen-year-old girl who has been trained by her father to fight, to kill, and to survive in any situation, lives with her family on a houseboat in Florida. The state is controlled by The Murder Complex, an organization that tracks the population with precision.
The plot starts to thicken when Meadow meets Zephyr James, who is—although he doesn't know it—one of the MC's programmed assassins. Is their meeting a coincidence? Destiny? Or part of a terrifying strategy? And will Zephyr keep Meadow from discovering the haunting truth about her family?
Action-packed, blood-soaked, and chilling, this is a dark and compelling debut novel by Lindsay Cummings.
~~~
"Welcome to the Murder Complex.

You cannot see us. You cannot feel us.

But we are here.

And we control your every move."
I was up in the air about this book. I don't read reviews on books I am going to read for the sole purpose that it is going to change what I think about the book when I read it. I was really excited for this book though and I went through some blogs and Goodreads to see how it was. I will admit, the reviews made me hesitant. But now that I read it, I do not regret it for a minute. This book was a
blood soaked and an action packed thriller that will leave you wanting more!
I enjoyed the characters in this book. Both were complex, tough and unique. I Zephyr grew up as a ward, basically an orphan from a young age. He works all day picking up the dead bodies from the Dark Hour, and watches out for his best friend Talan. Meadow grew up with her family, her mother having died when she was a young girl. When she turns sixteen she can take a test to determine if she can work. Meadow passes, and can now help provide for her family. I liked both Meadow and Zephyr they were both different from each other, having different goals for their survival.
"Kill.
Destroy.
No escaping.
No turning back.
This is what we must do to survive.
Purge the Earth.
This is the Murder Complex."
I liked the Murder Complex idea. It was interesting and kept me turning the pages. Especially that Zephyr is unknowingly a programmed assassin, created by the government for the purpose to kill people by night and practically be a slave by day.The message (above) is something he hears every time he sets his sights on his target, it managed to give me that chills. But then there is a glitch and he sets his sights on the wrong target, that is when the book fully sinks its claws into you.
This book was full of action. The world that Lindsay created is both bone chilling and terrifying. There was never a dull moment.
I love books where the government controls the people, and this book is just that.
This book was full of fighting, betrayal and shocking revelations that changed the course of Meadow and Zephyr's lives forever.
What an ending! Talk about being on the edge of your seats!
I stared at my book in shock, convinced for a moment or two that my book had to be missing pages. Sadly it wasn't but, I am really excited about the sequel to The Murder Complex. I already have the prequel on my kindle so I am going to dive into that soon!