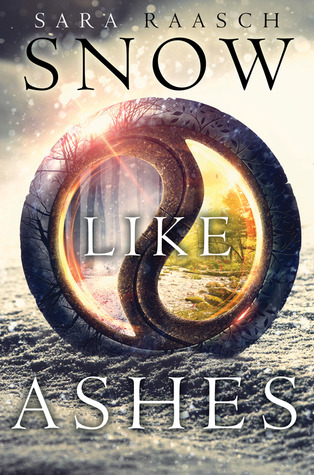 Title: Snow Like Ashes (Snow Like Ashes #1)
Author: Sara Raasch
Genre: High Fantasy, Romance, Magic
Source:
Edelweiss
Publisher: Balzer + Bray
Release Date: October 24th, 2014
Summary:
A heartbroken girl. A fierce warrior. A hero in the making.
Sixteen years ago the Kingdom of Winter was conquered and its citizens enslaved, leaving them without magic or a monarch. Now, the Winterians' only hope for freedom is the eight survivors who managed to escape, and who have been waiting for the opportunity to steal back Winter's magic and rebuild the kingdom ever since.




Orphaned as an infant during Winter's defeat, Meira has lived her whole life as a refugee, raised by the Winterians' general, Sir. Training to be a warrior—and desperately in love with her best friend, and future king, Mather — she would do anything to help her kingdom rise to power again.
So when scouts discover the location of the ancient locket that can restore Winter's magic, Meira decides to go after it herself. Finally, she's scaling towers, fighting enemy soldiers, and serving her kingdom just as she's always dreamed she would. But the mission doesn't go as planned, and Meira soon finds herself thrust into a world of evil magic and dangerous politics – and ultimately comes to realize that her destiny is not, never has been, her own.
~~~
I was overwhelmed at first, a lot of information was given to you You have eight kingdoms, eight capital cities, and eight rulers! It was like a tumbling washing machine, I couldn't get a grip of it all. Eventually I did though. But all you really needed to focus on was Spring, Winter, Cordell and a bit of Autumn. After you reach a certain point though it was easy to keep track of who was who.
I loved the characters in the book. Meira was my favorite though, she was strong, stubborn, kick ass and knew what she wanted. She grew a lot from the beginning of the book, and she has two other books to grow into. Especially after what she learned about herself, I can't wait to see that come into play a bit more. She had me cheering for her though!
Magic is where I got lost the most, I didn't catch the full gist of it but it was still pretty interesting. There were a few questions I still had at the end of the book involving magic and conduits. But it was a cool concept and I liked that how the conduits were created was touched upon. I am real excited though to learn more about magic in the next books.
I have mixed feelings about the romance part. Not that it was bad, I loved it! I rooted for one side through most of the book and then half way through the book Theron appears, and then I am like a child then with a shiny new toy because Theron is hot, and sweet and understand Meira. I do hope to see at least one Meira and Mather kiss, I know that is horrible to say considering she and Theron or together, but it has happened before. I am just mixed because both boys are someone the Meira needs, they both give her new strengths that she is going to need.
Considering the second half of the book, I thought the beginning was a bit slower, even if it did have fight scenes. This book was just packed with action from the start!
Miera was chopping people's legs and heads off and it was so kick ass that I was up until 3 in the morning because I just had to know what was going to happen next! I am really excited for the next two books now.