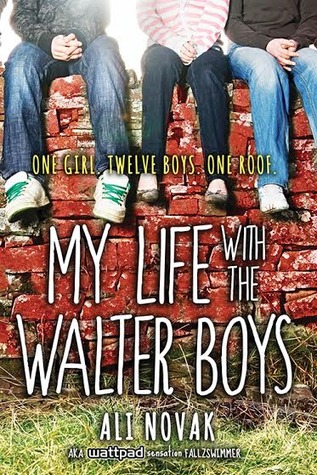 Title: My Life With The Walter Boys
Author: Ali Novak
Publisher: Sourcebooks Fire
Rating: 4/5 Stars
Paperback, 368 Pages
Published March 2014
Shelve it on Goodreads!
Summary:

Jackie does not like surprises. Chaos is the enemy! The best way to get her successful, busy parents to notice her is to be perfect. The perfect look, the perfect grades-the perfect daughter. And then...

Surprise #1: Jackie's family dies in a freak car accident.

Surprise #2: Jackie has to move cross-country to live with the Walters-her new guardians.

Surprise #3: The Walters have twelve sons. (Well, eleven, but Parker acts like a boy anyway.)

Now Jackie must trade in her Type A personality and New York City apartment for a Colorado ranch and all the wild Walter boys who come with it. Jackie is surrounded by the enemy-loud, dirty, annoying boys who have no concept of personal space. Okay, several of the oldest guys are flat-out gorgeous. But still annoying. She's not stuck-up or boring-no matter what they say. But proving it is another matter. How can she fit in and move on when she needs to keep her parents' memory alive by living up to the promise of perfect?
I received a copy of My Life With The Walter Boys at BookCon this past May, and I was instantly intrigued. I'm good friends with another Wattpad-sensation-turned-author, Nikki Kelly (author of the Styclar Saga), so I was definitely excited to start reading another published book that came from the familiar site. (In addition to knowing Nikki, I myself am also a published author whose story started gaining fame on an online writing website - mine was Miss Literati.) So, needless to say, I felt a strange familiarity with author Ali Novak before I even started reading her book.
Anyway, I finally managed to finish all of the books in my BookCon 2015 haul, this book being my last. The summary itself immediately drew me in - a young teen girl loses her entire family in a car accident (paging If I Stay, anybody?) and then ends up an orphan who has to get sent to a family friend's house to live. And if that isn't bad enough, the said family friend has 12 children. 12 boys.
If you're cringing right now picturing yourself living in a house with 12 boys from ages 5 to 21, you and I are in the same boat. (I have one brother who is two years younger than me and dealing with him is more than enough work - I couldn't imagine having to deal with 12 of him day in and day out.)
I liked how this story had light, funny moments, but also managed to deal with serious topics, too. This book covers everything from love to loss to prankster teenage boys to dealing with heartbreaking relationships. There's a little bit of everything in this book and that was something that I really enjoyed. I loved Jackie's character, too. We're similar in many ways - most predominantly in the area of being Type A teen girls who live by the writing in their planners and couldn't even imagine what flying by the seat of our pants would be like. Everything with Jackie needed to be scheduled, controlled, crisp and ironed - nice and professional, with no surprises. I'm definitely like Jackie in that sense - if I ever lost my planner, I think I would actually self-destruct and then proceed to burst into flames, all joking aside. That thing keeps my heart beating sometimes, I swear.
So, Jackie ends up having to live with her family friend and her twelve rowdy boys (although there are technically 11 - but Parker acts like a boy anyway). It's a definite culture shock for her, being that she previously lived in a penthouse in New York City with her well-kept, wealthy family and then she was dropped on a ranch in Colorado with boys who make habits of spilling their food everywhere.
I enjoyed watching Jackie struggle to come to terms with her new life, her new friends, and her new routine. Novak created a humorous, creative, and definitely interesting journey for the poor teenage girl as she settled into her new surroundings. However, there was one question that kept popping into my head while I was reading the book - one that I had from the beginning all the way to the end. (There's a minor spoiler and a bit more of a major one coming up so skip to the next paragraph if you haven't read the book yet!) First of all, why doesn't Katherine have anything to say about her sons making out with and dating this teenage girl who just moved into her home? Jackie becomes a practical sister to these people and then they start advancing on her and their mother isn't like "Hey boys, don't do that, you can't date this girl who is practically your new sister that has come to live with us." At first when the relationship things were a bit more private I wasn't too bothered by it, but as the romance grew and became more and more public, Katherine still didn't say anything, and neither did George, and that shocked and irked me a lot. Also, the book ends leaving me with so many questions! What happens with Cole and Jackie? Alex and Mary? Danny in New York?!
There are some rumors about a second book coming, although it's on Goodreads simply as "Untitled" and may or may not be legitimate. I'm hoping it is and according to Goodreads it should be coming out in 2016 so I'll eagerly be awaiting the next book to find out what will happen next!
All in all, My Life With The Walter Boys is a funny, adorable story of a girl who gets totally thrown out of her comfort zone and learns to adapt to her new life, new love, and new surroundings overall. I really enjoyed this book and I'm very glad that I had been able to pick up a copy at BookCon - and I can't wait to get my hands on the second book if it ends up being legitimate! Ali Novak, I'll be waiting!
Rating: