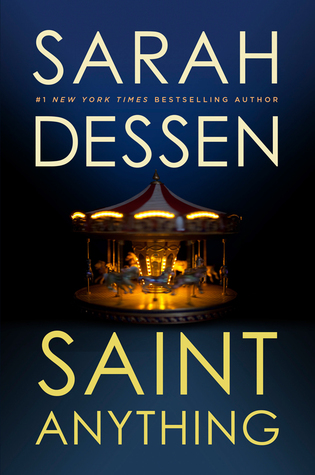 Title: Saint Anything
Author: Sarah Dessen
Publisher: Viking Juvenile
Rating: 4/5 Stars
Hardcover, 417 Pages
Published May 2015
Shelve it on Goodreads!
Summary: Peyton, Sydney's charismatic older brother, has always been the star of the family, receiving the lion's share of their parents' attention and—lately—concern. When Peyton's increasingly reckless behavior culminates in an accident, a drunk driving conviction, and a jail sentence, Sydney is cast adrift, searching for her place in the family and the world. When everyone else is so worried about Peyton, is she the only one concerned about the victim of the accident?

Enter the Chathams, a warm, chaotic family who run a pizza parlor, play bluegrass on weekends, and pitch in to care for their mother, who has multiple sclerosis. Here Sydney experiences unquestioning acceptance. And here she meets Mac, gentle, watchful, and protective, who makes Sydney feel seen, really seen, for the first time.
I bought myself a beautiful copy of Saint Anything at The Strand about a month and a half ago, and I was so super excited. First of all, the cover is absolutely gorgeous. (I'm a big fan of rich colors and simplicity.) Second of all, Sarah Dessen is a YA author that I've stuck with forever. I've read just about every single one of her books - one of the first YA books I ever picked up in my younger years was her novel Lock and Key. I've definitely had Dessen books that I've favored over some others, but I have yet to find a book by her that I outright disliked.
The thing that kept me from giving this book five stars was that it just felt...different to me. I've been noticing a subtle change in Dessen's writing as her books went on, but this book definitely made it more prominent. It almost seems a little rushed because now she's this YA romance powerhouse writer that is constantly pumping out new material. She definitely didn't lose her magic touch, but it's become a lot less prominent - that's for sure. And after scanning several other reviews of this book, I've noticed that I was not the only reader who realized that.
So the story follows Sydney, a high school teen dealing with horrible consequences - of something she never did. Her older brother winds up in jail after a drunk driving incident that left a young neighborhood boy paralyzed from the waist down for the rest of his life. Because of this, Sydney is expected to be the perfect, well-behaved daughter - never getting in trouble or doing anything remotely illegal or frowned-upon. And while her parents keep finding ways to spin the whole situation to gain sympathy for her brother (the drunk driver), Sydney is being weighed down by the unbearable guilt she has for his crime - because if nobody else will take the blame, someone has to.
Unable to deal with being "the girl with the brother in prison," Sydney immediately has her mother move her out of her uppity private school and into the nearby public high school, for a change of scenery and the hopes that her new classmates won't know who she is. Along her journey she meets an unlikely group of friends, a possible love, and even a bit of wrath from her parents and those around her.
I really liked this book. I like how Dessen can take normal, silly conversations between friends and make them meaningful and worth following. Seriously. I read an entire page about Layla discussing French fries and I wasn't even slightly bored because Dessen just makes it so realistic and entertaining. (This is pretty much the magic Dessen touch that I referred to earlier in this review.) Watching Sydney grow as a character in her morals and her strength was pleasing to watch as well - she had a pretty natural-yet-strong development, which I enjoyed. It wasn't too slow that I was getting bored, but it also wasn't so rushed that I felt it was fake and I was cheated.
(Mild spoilers in this paragraph. Skip to the next one if you haven't read the book!) The one thing (other than the book feeling different to me, which I mentioned earlier) that bothered me as a reader was that it took so long for Sydney to speak up to her parents about everything, especially Ames. That dude gave me creeps from the getgo and I don't understand how Sydney's parents didn't pick up on her panic about having him over. Maybe the first time if they didn't get it, okay. But as a parent, if the second time I had this guy watching my daughter she was resisting, I would question why and maybe listen to what she had to say. (I mean, my parents wouldn't ever leave me in the care of an adolescent boy anyway for an entire weekend, whether they thought he would try to make moves on me or not.) That part was definitely very twisted and left me feeling really uncomfortable to Sydney, and I don't understand how her parents let that stuff happen, no matter how frazzled over her brother they were.
All in all, Saint Anything was an enjoyable read about love, consequences, and overcoming challenges that life throws at you - even if they're secondhand challenges because of somebody's actions. I found it interesting to read a book about the secondhand dilemmas Sydney had to face because of her brother, because I haven't read too much of that and it really helps you understand that people in life do face things that are entirely out of their control because of the actions of others. Sarah Dessen pleased me with another one of her books and I can't wait to get my hands on her next one - and I will, mark my words, be one of the first few people lined up to get it!
Rating: