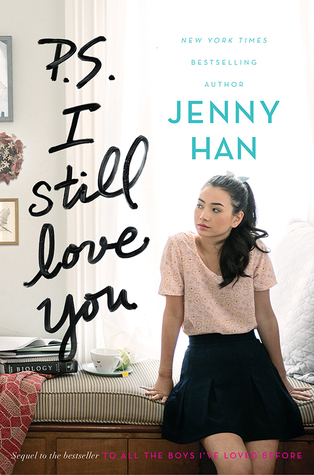 Title: P.S. I Still Love You (To All the Boys I've Loved Before, #2)
Author: Jenny Han
Publisher: Simon & Schuster
Rating: 3/5 Stars
Hardcover, 337 Pages
Published May 2015
Shelve it on Goodreads!
Read our reviews of:
To All The Boys I've Loved Before (Book #1)
Summary: Lara Jean didn't expect to really fall for Peter.

She and Peter were just pretending. Except suddenly they weren't. Now Lara Jean is more confused than ever.

When another boy from her past returns to her life, Lara Jean's feelings for him return too. Can a girl be in love with two boys at once?
I bought a copy of this book the month of its release at The Strand after BookCon this past May. To All The Boys I've Loved Before was a really cute and enjoyable read, so I was looking forward to this one as well.
It took me a couple of chapters to get back into the swing of things with this book, because I read the first book in the duology last summer and remembered the characters for the most part but not much else. (All exaggerations aside, I've probably read at least 100 books in between the first and second books in this series. So I was a bit off.) After I got through the first few chapters and things were brushed up on and explained, I felt a lot more comfortable and got right into the swing of things.
I love Lara Jean as a character. Even if she has a tendency to be a bit timid and make some not-so-wise decisions, she has a strong and reasonable head on her shoulders. I like that no matter what pressure she faces, she sticks to what she believes in. I pretty much love almost all of the characters in this book, actually. Especially Lara Jean's dad. If my dad had found an inappropriate video of me floating around on the internet, I would have probably (no, definitely) been crucified. Lara Jean's dad took it all in stride, and just in general he's there for his girls. Several times throughout the book he has demonstrated some amazing parental skills that I could only hope my future husband will be able to do someday. The love the entire family has for one another is amazing.
I also like John Ambrose McClaren. Especially after the USO dance! *Winks* He is such a sweet and kind character to Lara Jean from the very beginning, treating her the way she deserves to be treated no matter the circumstances.
What really frustrated me about this book was the ending. There are big spoilers in this paragraph, so if you haven't read this book yet or don't want it spoiled for you, please skip on to the next paragraph! Okay, so it really upset me that Lara Jean ended up with Peter. He treated her like absolute crap numerous times, not even just times that had to do with his ex-girlfriend. As Lara Jean pointed out several times, he was forgetful. Arrogant. And way too controlling. Even though she felt she may have loved him, he hurt her and was careless and a terrible boyfriend several hundred times. John was kind to her, took care of her, had her back, and was always there to pay attention and lend her help and advice when she needed it - even when it was advice on how to get back with the boy that was absolutely terrible to her. He had so much potential to be a perfect fit for Lara Jean, and she blew it all to be with the boy who hurt her time and time again and clearly wasn't good for her no matter how many chances he had been given. What bothers me most of all is that John understood this and was alright with it (even if he was a bit bummed). It just frustrated me beyond belief because the message I seemed to get from the whole thing was that even if someone got numerous chances and hurt you and treated you poorly even when you deserved much better, it's okay to end up with them in the end.
(Keep skipping to the next paragraph!) What kind of message does that send? That's honestly what made me knock an entire star off this review. The ending. It definitely shocked me because I was hoping Lara Jean would end up with the boy that could offer her the world without hurting her.
All in all, P.S. I Still Love You was an enjoyable read, even if I disagreed with a few parts of it. Jenny Han is a great writer and I love Lara Jean and all of the Song girls and all of the other characters you get to meet in this book (give or take a few bad ones). I don't think there's going to be a third book in this series so I'm sad to see the Song girls go, but I would definitely be interested in reading other books by Jenny Han!
Rating: