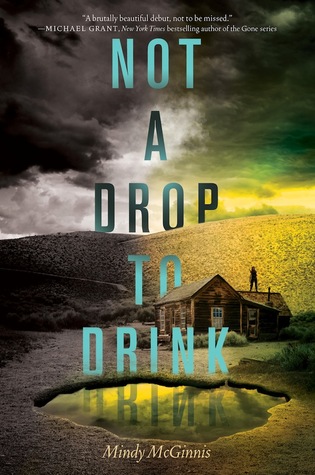 Title: Not a Drop to Drink (Not a Drop to Drink #1)
Author: Wendy McGinnis
Genre: Dystopian
Format: eBook
Publisher:
Katherine Tegen Books
Published: September 24, 2013
Summary:
Regret was for people with nothing to defend, people who had no water.
Lynn knows every threat to her pond: drought, a snowless winter, coyotes, and, most importantly, people looking for a drink. She makes sure anyone who comes near the pond leaves thirsty, or doesn't leave at all.
Confident in her own abilities, Lynn has no use for the world beyond the nearby fields and forest. Having a life means dedicating it to survival, and the constant work of gathering wood and water. Having a pond requires the fortitude to protect it, something Mother taught her well during their quiet hours on the rooftop, rifles in hand.
But wisps of smoke on the horizon mean one thing: strangers. The mysterious footprints by the pond, nighttime threats, and gunshots make it all too clear Lynn has exactly what they want, and they won't stop until they get it….




With evocative, spare language and incredible drama, danger, and romance, debut author Mindy McGinnis depicts one girl's journey in a barren world not so different than our own.
~~~
I am questioning why I had put this book down when I tried to read it in October of 2013. What the hell was I thinking?! I defiantly made a huge mistake there. I am so glad now that I requested an ebook ARC of In a Hand Full of Dust, otherwise I would have never picked this up again.
My favorite kind of Dystopian novels are ones that deal with things that could possibly happen in the future. I feel as if it draws me in more and more and keeps me reading. I liked the plot to this, it was interesting and it wasn't long before I was hooked. (This was another one of those books I stayed up to 4 AM to read)
I loved Lynn. She was totally bad ass, and I loved to see how she went from someone who felt that she didn't need someone to eventually leaning on those she cares about. Lucy was a character I just fell in love with the minute she appeared in the book, she is just so cute and innocent. Especially since she lives in such a cruel world. Eli was just so adorable, he was an instant love for me. He was so kind and caring and a bit straight forward, especially about his flirting with Lynn. Which was adorable because she was so confused. Stebbs was someone at first that I thought would be trouble for Lynn, he just gave off that vibe. Eventually though their banter was entertaining at points, serious at others and I think Lynn in the end looked up to him in a father figure kind of way. (At least that is my opinion)
I do wish there was more romance between Lynn and Eli. I felt it was over too quick after their relationship had just started. Then you have the ending that just leaves you staring at the page with a "WTF" expression. I was very confused (I am still am!) and very sad.
The book closes with an Epilogue
, which has to be a few years into the future, because Lucy is going to be on guard for the first time.
In the end I really did love this book, and I am almost through the sequel, In a Handful of Dust. I also love how the titles make a sentence. Like "Not a drop to drink, in a handful of dust." I just love it!