Our February Debut Author is....Victoria Aveyard!
About Victoria Aveyard
Victoria Aveyard a screenwriter/YA author who likes books and lists. Goodreads is the nexus of her universe. Her book Red Queen will be published Winter 2015 from HarperTeen at HarperCollins. Victoria is repped by the incomparable Suzie Townsend at New Leaf Literary & Media, Inc. The genres she's into include YA, Fantasy, Historical, Adventure, Apocalyptic - if people are dying, she's buying.
Keep in contact with Victoria on:
First of all, what is Red Queen about?
Red Queen is, at its heart, about growing up, choosing who you want to be for better or worse, choosing between the familiar and the unknown. Every character, no matter their age, in at least some small way, makes this decision over the course of the series. A lot of the story concerns the affect of parents on children, and how this relationship harms or helps. I didn't set out to write a book about this at all, but this thread definitely came out over the course of discovering the story and the characters.
What was your inspiration for Red Queen?
I was definitely inspired by a single image. After I decided to try my hand at writing a novel, one day I was struck by the thought of a teenage girl who seems completely beaten, weak, defeated - who turns the situation on its head and is actually a force of nature. A storm in human form. This of course became Mare, and the rest of Red Queen grew out of this image and the world it required.
Why do you think readers will enjoy Red Queen? What makes it special?
Hopefully readers are, first and foremost, entertained. I tell stories to entertain, both myself and an audience. In its purest form, stories are an escape and I always try to create a paper-and-ink respite from the real world. Beyond this, because of Mare's age and the central theme of entering adulthood, a lot of readers can relate and latch on to this familiar experience.
Either you're currently discovering who you want to be, or you've made the choice already
. It's something every single person understands. And, quite selfishly, I think
Red Queen
is just a fun time. There's battles, twists, intrigue, romance, kickass characters. I basically threw in everything that gets me excited, so I think some other people might like it too.
How does it feel to be a new author? What's scary about it? What's great?
Very strange. It's easy to get wrapped up in the romance of being a working, publishing author, and I try my best not to get ahead of myself. This is a dream, but it's also a job. This is how I pay my college loans. It's a great way to do it, and it's really awesome that this has somehow happened, but at a certain point, I have to push that away and just work. Overall, it feels really great, but I try not to dwell on it so my head doesn't explode. The scariest part is definitely the fear of the unknown. There's absolutely no road map for this. Every single publishing journey is unique, which is awesome, but there's not really anywhere I can go to see what's happening next. Luckily I have an amazing team keeping me on the straight and narrow, not to mention wildly supportive friends and family. And in case this hasn't come across yet, I get to write all the time. All. The. Time. It's awesome. I'm so excited to continue this journey and see what happens on the other side of pub day.
What do you think about the relationship between the blogging community and new authors?
I had little to no knowledge of the book blogging community before I found myself right in the middle of it and I have to say, everyone seems great. You guys really are the grassroots end of publishing, getting the word out and doing so much groundwork for books big and small. And when it comes to new authors like me who are just kind of running around like headless chickens, you guys are SAINTS. I personally feel so welcome and lucky to have this community all around me. Regardless of how people feel about anything I write, the blogging community are always professional, kind, and above all else, so dedicated. I'm constantly floored by the amount of work you put in, for nothing more than your love of books.
What has been your best experience as a new author so far?
Seeing a book cover, and then actually holding said book cover, was a really wild moment. I mean, I've got a big list of wild moments, but that really hammered into me how real this situation was. I came into publishing non-traditionally and did not expect the amazing support I've been given, so every new development has been kind of an "Um what? Really? Is that good? Cool!" moment. But the
Red Queen
cover was something I finally understood. This book is real, and it looks damn good.
(Note: It definitely does, Victoria!)
What's been your worst?
Red Queen
sold in April of 2013 and publishes in February 2015, so the wait felt kind of brutal at times. Of course, every second was well spent preparing, and now that I'm almost a week away, I'm missing the grace period. Oh, and of course going on submission with the original manuscript was downright painful. I didn't query, so I had no idea how this would go. I ended up glued to my inbox for two weeks, reading every rejection that came in like a total masochist. Somehow I made it through alive.
Do you plan on writing a sequel to Red Queen, or writing any other books in the future?
Red Queen
is, at present, under contract as a trilogy. Book 2 just finished its first round of edits and I'm currently drafting book 3. I know how the series ends, now it just becomes whether or not I can do it in three books. :)
About Red Queen: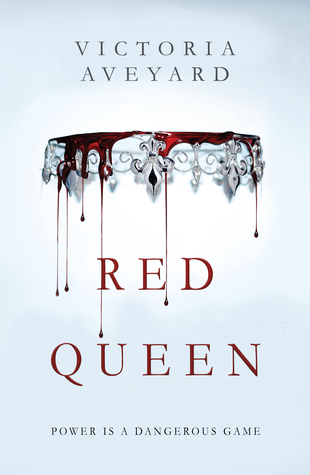 Publisher: Harper Teen
Publication Date: February 10th, 2015
Summary:

T

he poverty stricken Reds are commoners, living under the rule of the Silvers, elite warriors with god-like powers. To Mare Barrow, a 17-year-old Red Girl from the Stilts, it looks like nothing will ever change. Mare finds herself working in the Silver Palace, at the center of those she hates the most. She quickly discovers that, despite her red blood, she possess a deadly power of her own. One that threatens to destroy Silver control. But power is a dangerous game. And in this world divided by blood, who will win?
You can find Red Queen on:
***Giveaway:***
Lastly, to celebrate the release of Red Queen on February 10th, we're giving away ONE (1) Hardcover Copy of Red Queen from The Book Depository!