"Waiting On Wednesday" is a weekly meme hosted by

Breaking The Spine

where we highlight some of the upcoming books we can't wait to read!
Jessica's Waiting on: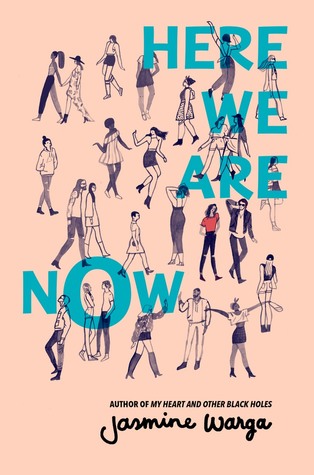 Title: Here We Are Now
Author: Jasmine Warga
Publisher: Balzer + Bray
Publication Date: November 7th, 2017
Summary:

Despite sending him letters ever since she was thirteen, Taliah Abdallat never thought she'd ever really meet Julian Oliver. But one day, while her mother is out of the country, the famed rock star from Staring Into the Abyss shows up on her doorstep. This makes sense - kinda - because Julian Oliver is Taliah's father, even though her mother would never admit it to her.

Julian asks if Taliah if she will drop everything and go with him to his hometown of Oak Falls, Indiana, to meet his father - her grandfather - who is nearing the end of his life. Taliah, torn between betraying her mother's trust and meeting the family she has never known, goes.

With her best friend Harlow by her side, Taliah embarks on a three-day journey to find out everything about her 'father' and her family. But Julian isn't the father Taliah always hoped for, and revelations about her mother's past are seriously shaking her foundation. Through all these new experiences, Taliah will have to find new ways to be true to herself, honoring her past and her future.
I've been a fan of Jasmine Warga ever since she tore my heart out with My Heart And Other Black Holes (and my review can be read here). This book seems to be filled to the brim with everything I love in a story -- a mysterious father, an epic adventure, and learning secrets that have been hidden in plain sight for years? Count me in!
And that cover -- I just love the color scheme. (If our blog layout is any indication!) I can tell that this is going to be a great book that I'll end up loving -- I can just feel it. So here's to crossing my fingers and hoping I get a copy soon to check it out for myself!
What are you waiting on this week? Leave your links so I can stop back!