Title:
The Rest of the Story
Author: Sarah Dessen
Publisher:
Balzer + Bray
Rating: 4/5 Stars
Hardcover, 440 Pages
Published June 2019
Summary:

Emma Saylor doesn't remember a lot about her mother, who died when she was ten. But she does remember the stories her mom told her about the big lake that went on forever, with cold, clear water and mossy trees at the edges.

Now it's just Emma and her dad, and life is good, if a little predictable…until Emma is unexpectedly sent to spend the summer with her mother's family—her grandmother and cousins she hasn't seen since she was a little girl.

When Emma arrives at North Lake, she realizes there are actually two very different communities there. Her mother grew up in working class North Lake, while her dad spent summers in the wealthier Lake North resort. The more time Emma spends there, the more it starts to feel like she is divided into two people as well. To her father, she is Emma. But to her new family, she is Saylor, the name her mother always called her.

Then there's Roo, the boy who was her very best friend when she was little. Roo holds the key to her family's history, and slowly, he helps her put the pieces together about her past. It's hard not to get caught up in the magic of North Lake—and Saylor finds herself falling under Roo's spell as well.

For Saylor, it's like a whole new world is opening up to her. But when it's time to go back home, which side of her will win out?
I have always been a huge Sarah Dessen fan, so when I found out about this book, I immediately added it to my TBR and couldn't wait to get it. So, of course, I immediately purchased a copy at BookExpo this year, and had been eagerly holding onto it and waiting to read it, but my summer job and work and the ARCs I had to read ended up getting in the way, so I didn't get around to reading the book until September. But then, lucky for me, Sarah was in town for the Brooklyn Book Festival this year, and I got to meet her and have my copy signed, so that was really exciting since she's one of my YA author heroes. So without further ado, let's get into my review!
As the summary explains, Emma Saylor finds her summer plans falling apart, which means she has to stay with her deceased mother's side of the family up in a quiet lake town for a few weeks. At first, she's dreading it -- she doesn't remember meeting these people at all, and her father seems less then enthused about sending her there, but can't find any alternate options before he leaves for his honeymoon with her stepmother. But the longer Saylor stays at North Lake, the more she finds out about her complicated family history and the lives that she didn't know about there, and it grows on her more and more...much to her father's displeasure.
This book was just as much of a heartwarming delight as the rest of Sarah's novels. As someone whose family takes yearly lake vacations that are very similar to what is described in the story, reading this book gave me a happy sense of nostalgia that made me think of all of the great memories I had there. It's just such a feel-good book -- even though some of the topics (such as Saylor's mother's addiction, her death, the haunted memories she had of the lake town, etc.) were pretty heavy, there were so many moments of fun summer nights, bringing back my teenage years and making me smile a little bit. And it made me feel really good.
My favorite character in this book was definitely Roo, who was so sweet and kind and there for absolutely everyone. I found myself swooning over him pretty much right from the get go. I also really appreciated Saylor's transformation throughout the book, as she started to find more and more of herself as she met everyone else in her family. The only thing I didn't super-duper love about this book was the fact that the ending felt a little bit rushed to me, and I found myself wanting to know more about what was going on, since it went down in such a short couple of pages in a pace that felt much quicker than the pacing of the rest of the book.
The only thing I regret is that I wish I had started this book over the summer like I had intended to, when I was on my family vacation to a lake town almost identical to the one described in this book -- it would've been the perfect vibe! However, I still enjoyed reading this book in the fall, because it gave me the perfect summer vacation flashbacks. There's something about a lake vacation that you just can't beat!
Overall, I really enjoyed reading The Rest of the Story. If you're interested in a feel-good book with perfect summer vibes and a strong, powerful story arc about finding yourself, the complexities of family, and how to blend two worlds that had felt so separate to you for so long, I would absolutely recommend picking this one up. Hats off to Sarah Dessen for another great read, as always -- can't wait for her next one! :-)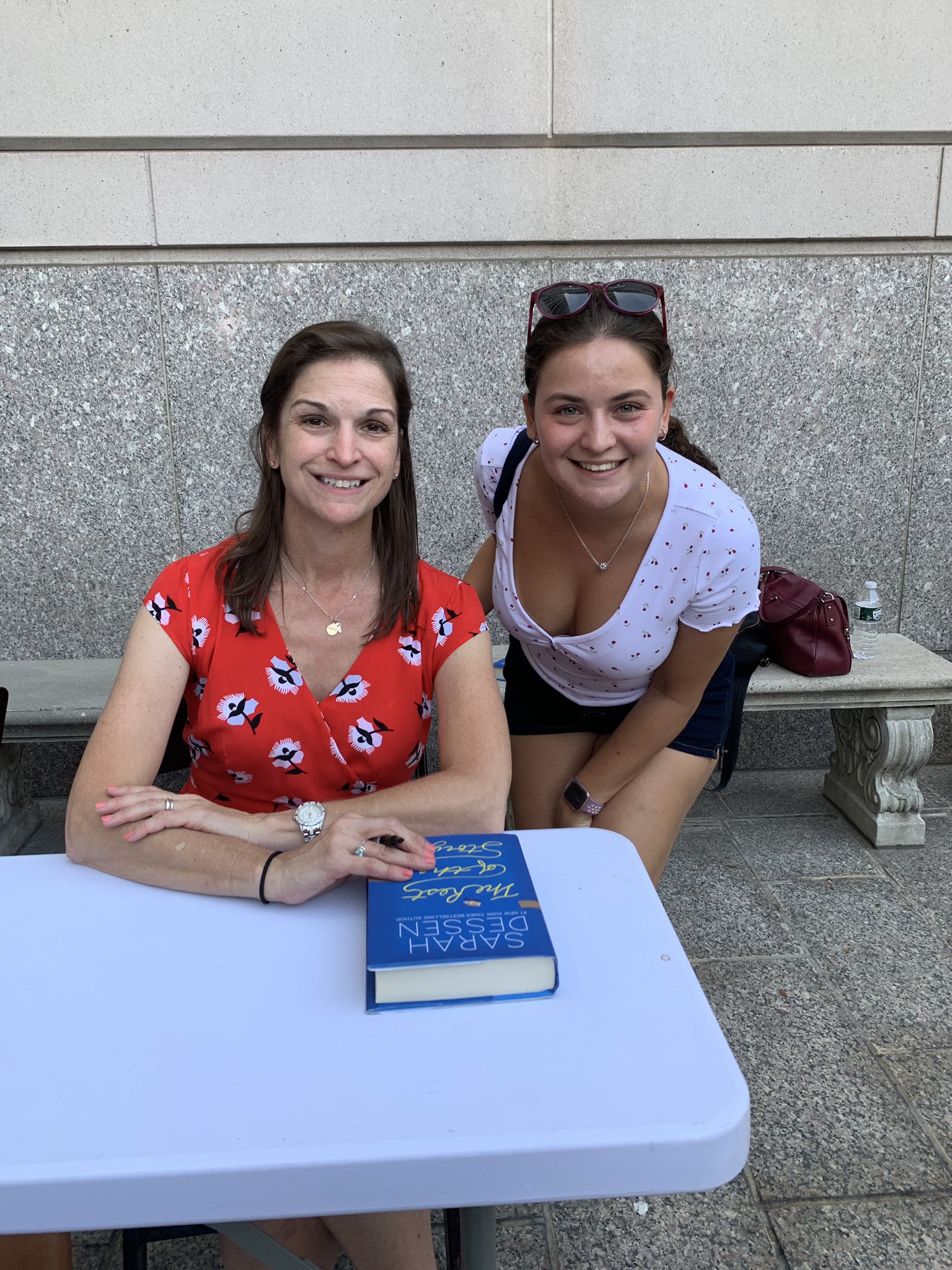 The picture of me meeting Sarah at the Brooklyn Book Festival this year!! :)