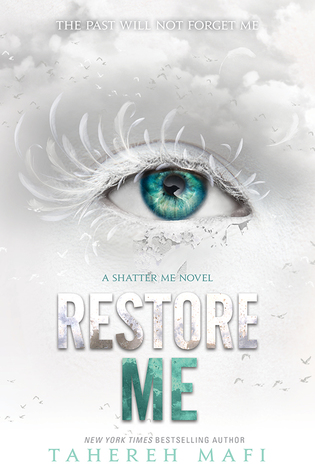 Title:
Restore Me
Author: Tahereh Mafi
Publisher: HarperCollins
Rating: 5/5 Stars
Hardcover, 448 Pages
Published March 2018
Summary:

Juliette Ferrars thought she'd won. She took over Sector 45, was named the new Supreme Commander, and now has Warner by her side. But she's still the girl with the ability to kill with a single touch—and now she's got the whole world in the palm of her hand. When tragedy hits, who will she become? Will she be able to control the power she wields and use it for good?
Guys, I don't know where to start. The love I have for this series and the characters is beyond comprehension. After hearing about the addition of three more books to this series, I was ecstatic and impatient. I did not want to wait for this book. And like you probably expected, I devoured this book the second it was released.
Restore Me is the continuation to the Shatter Me series and picks up about two weeks after the end of Ignite Me. Juliette is now the Supreme Commander after killing Anderson. She is determined to change the world. Juliette has so much to learn and when the children of the other Supreme Commanders show up, Juliette is determined to get them on her side. But Warner is extremely skeptical as to the real reason they showed up. As secrets are told and danger is close by, Juliette will have to work harder than ever and face something she never thought possible.
Juliette and Warner have to be my favorite book couple ever. Their relationship is so pure and lovely that it hurts. Warner is very closed off and cold but easily opens up just for Juliette and I just love it so much! His character is finally starting to warm up to the others and I'm really beginning to ship him and Kenji (not sorry).
Juliette was faced with learning the ins and outs of being Supreme Commander throughout the book. At the end of Ignite Me, it felt like Juliette was capable of anything but in reality, she had no idea what she was doing. There was so much she didn't know about ruling an entire country and it really took a toll on her. The children of the Supreme Commanders basically laughed in her face after they realized just how clueless she was. In Reality, Juliette really is not cut out for this job. I also find it a little selfish that Warner just wont take over for her. Yes, I understand he want's Juliette to be all she want's to be, but Warner was literally born to take over. If he doesn't want to deal with the responsibility of taking over, he should have prepared Juliette better.
Major spoilers ahead! Beware! (Skip to last paragraph)
Now for that ending.
OH. MY. GOD. I have to say, I kind of saw the whole kidnapping thing coming but not who did the kidnapping. I was completely shocked. Just ask Jess and Amber, I was going crazy. Oh, and this is totally not the end for Juliette and Warner, it can't be. In my opinion, I think Juliette overreacted after Warner told her the truth about her past. In his defense, he truly didn't know until Castle told him! He explained that to her and she still completely freaked out on him. All I have to say is that my heart is in a million pieces and I'm not so patiently waiting for the next book.
So all in all, this book was everything; I was laughing out loud with every word out of Kenji's mouth and in a puddle of tears by the end of the book. This was a true page turner and I couldn't put it down. Once again Tahereh's writing left me speechless and wanting more. Please if you haven't already read this, do yourself a favor and read it right away, you won't be disappointed!