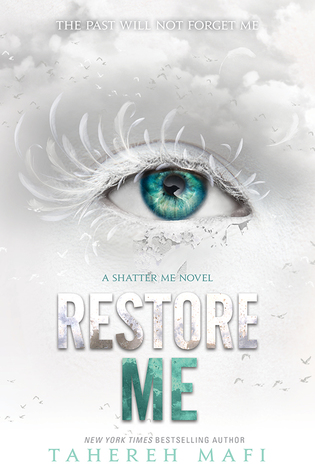 Title:
Restore Me
Author: Tahereh Mafi
Publisher: HarperCollins
Rating: 5/5 Stars
Hardcover, 448 Pages
Published March 2018
Summary:

Juliette Ferrars thought she'd won. She took over Sector 45, was named the new Supreme Commander, and now has Warner by her side. But she's still the girl with the ability to kill with a single touch—and now she's got the whole world in the palm of her hand. When tragedy hits, who will she become? Will she be able to control the power she wields and use it for good?
I can tell you with complete confidence that the wait for Restore Me, though several years was worth it. A few weeks ago when I finished my reread of Ignite Me I realized I still had more questions then answers on a lot of things. Yes, I was thrilled that everything had worked out for Juliette, that Anderson was dead and Juliette was now in control of Sector 45 and North America. But it still left the questions: What exactly is the Reestablishment? What caused the supernatural powers that some characters had possessed? What happens moving forward now?

Restore Me takes place 16 days after the events of Ignite Me, so even though readers waited several years for this book for these characters it was only a matter of days. Through out the book we see how Juliette is very ill prepared to be a Supreme Commander of North America. It was an easy forgotten fact that she is still a child, and being locked up for a good majority of her life doesn't know many things.

On March 6th, Jessica, Emily and I attended the book signing for Restore Me Before the signing Tahereh spoke about the newest addition to the series and someone asked if Restore Me in both Warner's and Juliette's POV because someone was going to die. After Tahereh consoled us on the fact that she didn't bring her characters back to kill them she explained that Juliette knows so little of the world and the Reestablishment. Where Warner is the commander of Sector 45. His whole life is the Reestablishment. A big part of his POV is shed light on information that Juliette doesn't know.

I enjoyed both Juliette and Warner's POV. From the beginning of the series until the end of Restore Me Juliette has done nothing but grown as a character. Getting to see the world through Warner's eyes sheds light on so many things, his past, the Reestablishment, his own feelings since he had a very hard time disclosing those to Juliette. I especially love the differences in Warner's and Juliette's voices. He is very matter of fact and straight forward with things where Juliette is very fluid and metaphorical.

Through out the story we meet several new characters (But I will keep quiet on who not to spoil it for anyone!) but there is a return of the old favorites. I love Kenji, maybe not as much as I love Warner but close. Kenji continues to be the lovable goofball that readers have grown to love. I truly believe he has some of the best lines in the book, and lightened some of the darkest parts of Restore Me. Besides Kenji there are many more appearances from past characters. I had a strong dislike of Adam based on the past books in the series, which is understandable. He was an asshole. But I really believe he has a chance at redemption in the coming novels.

Restore Me will not be anything of what you are expecting. Don't forget everything you know about Shatter Me so far, but not everything is as it seems. Restore Me is fast paced with something new in almost every page. The book take a dark turn pretty quickly. But I will tell you one thing for sure. None of this is to be expected.