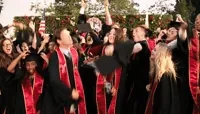 Hi there, everyone.
I bet you all knew this was coming.
We started The College Diaries four whole years ago (the first post can be found here!) as a way of keeping you all updated as we navigated the college world while also balancing blogging and reading. We had started The Book Bratz way back during our freshman year of high school, so you all have definitely been with us for the long haul. And tomorrow...is graduation day. Or at least, it was supposed to be.
To nobody's surprise, that got cancelled. Which is sad but also completely understandable given the circumstances. I'd be lying if I said I wasn't devastated about it, and about not being able to experience my last college semester at my favorite school in the world, exactly how I planned it. It's something that you can never truly get back, you know? We worked so hard and it feels like instead of the grand celebration we have been gearing up for, it's more of a fade-to-black situation. Like a bad book cliffhanger that leaves you more sad than eager to pick up the next installment in the series.
However, tomorrow I still WILL be graduating from my dream school with a degree in Creative Writing, which has been what I've wanted for so long. Even if I don't get to walk across the stage like I planned, this achievement is still happening, and I'm still going to celebrate by sitting outside in the sun with a good book and some delicious snacks because I GRADUATED, DAMN IT. So let the celebrations continue, safely at home and through the screen!
So I'd like to take this moment to thank you all for sticking with us for this long. We've gotten so many DMs and messages about how awesome it has been to see us move through so many different years of our lives. We're so excited to be here with all of you! So even though graduation day isn't happening tomorrow, and college is over, we promise that this isn't the end of giving you glimpses into our lives. We wouldn't be who we are without such an amazing community behind us, so we are excited to continue to grow with you!