"Waiting On Wednesday" is a weekly meme hosted by Breaking The Spine where we highlight some of the upcoming books we can't wait to read!
This week, Jessica's Waiting On: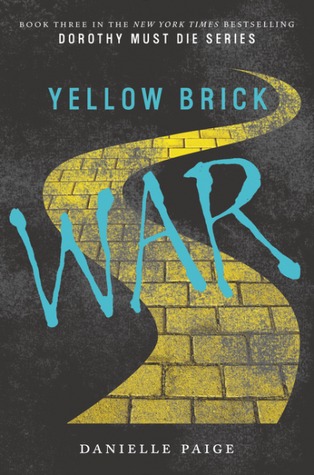 Title: Yellow Brick War (Dorothy Must Die, #3)
Author: Danielle Paige
Publisher: HarperCollins
Publication Date: March 15th, 2016
Summary:

In this third book in the New York Times bestselling Dorothy Must Die series, new girl from Kansas Amy Gumm is caught between her home—and Oz.

My name is Amy Gumm. Tornadoes must have a thing about girls from Kansas, because—just like Dorothy—I got swept away on one too. I landed in Oz, where Good is Wicked, Wicked is Good, and the Wicked Witches clued me in to my true calling: Assassin.

The way to stop Dorothy from destroying Oz—and Kansas—is to kill her. And I'm the only one who can do it.

But I failed. Others died for my mistakes. Because of me, the portal between the worlds has been opened. And if I don't find a way to close it?

Dorothy will make sure I never get to go home again.

Now it's up to me to: join the Witches, fight for Oz, save Kansas, and stop Dorothy once and for all.
Jessica Says: I have been a huge fan of the Dorothy Must Die series from the moment that I received a signed copy from Danielle Paige at BookCon 2014! I loved The Wicked Will Rise and all of the other stories that came along with the boo, and I'm so excited for Yellow Brick War that I hope that I can survive the wait until March! This series is so funny and gripping and great and I have nothing else to say other than that I can gush about Danielle Paige and her amazing work all day long. I can't wait to get my hands on this one - I'll be one of the first people in line!!
What are you waiting on this week? Tell me down below and give me the link to your Waiting on Wednesday so I can stop by and check it out!