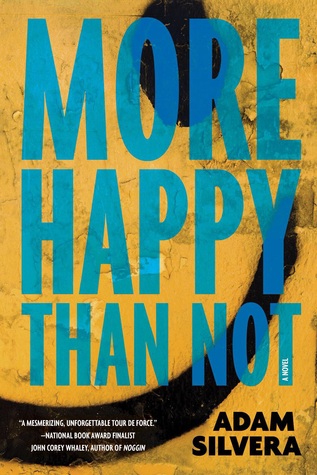 Title: More Happy Than Not
Author: Adam Silvera
Publisher: Soho Teen
Rating: 4/5 Stars
Hardcover, 293 Pages
Published June 2015
Add it on Goodreads!
Summary: n the months after his father's suicide, it's been tough for 16-year-old Aaron Soto to find happiness again--but he's still gunning for it. With the support of his girlfriend Genevieve and his overworked mom, he's slowly remembering what that might feel like. But grief and the smile-shaped scar on his wrist prevent him from forgetting completely.

When Genevieve leaves for a couple of weeks, Aaron spends all his time hanging out with this new guy, Thomas. Aaron's crew notices, and they're not exactly thrilled. But Aaron can't deny the happiness Thomas brings or how Thomas makes him feel safe from himself, despite the tensions their friendship is stirring with his girlfriend and friends. Since Aaron can't stay away from Thomas or turn off his newfound feelings for him, he considers turning to the Leteo Institute's revolutionary memory-alteration procedure to straighten himself out, even if it means forgetting who he truly is.

Why does happiness have to be so hard?
I went on a book-buying spree a few weeks back, and More Happy Than Not was one of the first books that I added to my cart. I'd heard nothing but good things about it, and I couldn't wait to get my hands on it and give it a try myself. Once my copy came, I hurried through what I was currently reading so it could be this book's turn. And I can successfully say that I managed to read this book in a little under 24 hours - because it was so good that I just kept wanting to read more.
To be entirely honest, I was expecting this book to just be a feel-good, coming-of-age story about a teen boy who all of a sudden realizes that he's no longer into his perfect girlfriend and is instead into guys -- and the struggle he has to face after that realization. I did not expect this book to have as much depth and crazy plot twists as it did, and I can honestly say that I was pleasantly surprised. When I hit one of the major plot twists (which I will not spoil for you although I will discuss it lightly later in this review), I was actually sitting next to Amber in class and burst out in shock and started rambling. It seriously blew my mind (and she will attest to that).
So, a brief summary for everyone - Aaron is a young teen growing up in the Projects, so his life isn't necessarily fine and dandy. He still has a roof over his head, some family to love, and some friends that have his back, so although life may not be absolutely perfect, it's pretty decent. He even has a beautiful and funny and super creative girlfriend, Genevive. Life's good for Aaron. It could be better - especially after the loss of his father to suicide - but it isn't nearly as bad as it could be.
And then one day, Aaron is fooling around with his friends when he bumps into Thomas. Thomas is everything that Aaron's friends are not - passionate, driven by dreams, creative, and seemingly otherworldly. They instantly click, and suddenly, inexplicably, Aaron feels a desire for something more. But he's a straight teenage boy with a super hot girlfriend that he loves spending time with - right? That's what he keeps trying to tell himself.
Running alongside this plot the entire time is this company called Leteo, which is a memory-suppressing company that deals with helping people forget traumatic experiences in their lives. Aaron has no need for one (at least he doesn't think he does), but it's still something that is important throughout the story as a whole, as Aaron's friends and neighbors all undergo procedures. So although this book definitely struck me as realistic fiction, there was a slight tough of science fiction woven into it as well, which gave the book a unique aspect.
I can definitely attest to the fact that I have never in my reading history ever read anything like this book, and that's super refreshing and I really enjoyed it.
One thing that made me laugh a lot in this book is that there is a lot of cursing and a lot of sexual content. But Silvera created such a charismatic and witty narrator in Aaron that instead of making me uncomfortable or turned off towards the book, it amused me. I laughed a lot - sometimes in my head and even more times out loud. The book kept me on my toes and engaged at all times. Plus, being that the story is centered around the Projects, that's just bound to be the kind of dialect you deal with. It definitely gave me a glimpse into the tough lives of the people in the Projects (which I always knew about from living in New York City but I never really experienced myself). But what I also saw is that the people from the Projects have harsh and sometimes scary lives that they have to deal with to keep themselves alive and afloat, so it opened my eyes to a whole new type of life that I never really contemplated much about before.
(There are some spoilers ahead, so skip to the next paragraph if you have not yet read this book!!) Okay, so I'm going to talk about that big plot twist for a minute without spoiling too much or giving it up, because I feel like it's the kind of thing that you need to read yourself and shock yourself with rather than hearing about it secondhand. Anyway, I kind of knew what was going to happen right before it happened, so I wasn't really let down that I figured it out myself. I was elated that I got it right. And let me just say, I absolutely, positively did NOT see that plot twist coming. It completely floored me and it was so absolutely brilliant that I wish I could find Adam Silvera in person and give him a high five for being so epic. That twist was really so great and I wasn't expecting it and I was super shocked and loved how much the story picked up from there! (Even if there was a whole lot of sex. LOL.)
All in all, More Happy Than Not was an amazing read about love and loss, finding yourself and remembering those who are closest to you. This story taught me a lot about people I didn't know much about, as well as how hard life can be for people who feel trapped and think that there's no way out for them. This book is a great, emotional read that everybody needs to pick up. It teaches you so much and it's definitely one of those life-lesson books that everyone needs, as well as a humorous pick-me-up kind of book. I really, really enjoyed this one and I'll definitely be reading more work by Adam Silvera in the future - he's just gained another fan! :-)
Rating: