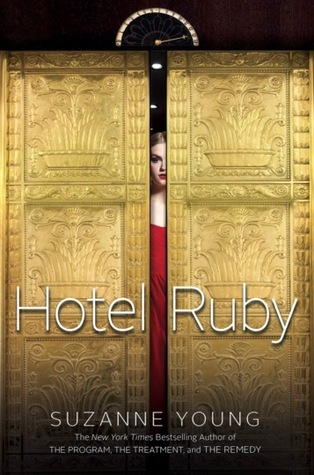 Title:
Hotel Ruby
Author: Suzanne Young
Rating: 5/5 Stars
Publisher: Simon Pulse
Source: ARC sent by publisher
Hardcover, 288 Pages
Publication Date: November 3rd, 2015
Add it on Goodreads!
Summary:

When Audrey Casella arrives for an unplanned stay at the grand Hotel Ruby, she's grateful for the detour. Just months after their mother's death, Audrey and her brother, Daniel, are on their way to live with their grandmother, dumped on the doorstep of a DNA-matched stranger because their father is drowning in his grief.

Audrey and her family only plan to stay the night, but life in the Ruby can be intoxicating, extending their stay as it provides endless distractions—including handsome guest Elias Lange, who sends Audrey's pulse racing. However, the hotel proves to be as strange as it is beautiful. Nightly fancy affairs in the ballroom are invitation only, and Audrey seems to be the one guest who doesn't have an invite. Instead, she joins the hotel staff on the rooftop, catching whispers about the hotel's dark past.

The more Audrey learns about the new people she's met, the more her curiosity grows. She's torn in different directions—the pull of her past with its overwhelming loss, the promise of a future that holds little joy, and an in-between life in a place that is so much more than it seems…

Welcome to the Ruby.
Oh my God. I need a minute. I just finished this book today and my head is still spinning, and I absolutely loved it and it's the first book that I've given a five-star rating in quite a long time. I'm still reeling because OH MY GOD THAT BOOK WAS FANTASTIC.
*makes an attempt to collect myself* Okay, onto the review. If there's anything I could say in a short phrase to describe this book, it would have to be "Hotel California." That's right. Like the Eagles song. There were so many parallels between the song and this book that it was downright creepy in the best way. It's the story of Audrey, a young teenage girl who is still mourning the loss of her mother. She responded to her grief by acting out, and her father is unable to take it anymore, so he's bringing her and her brother to their grandmother's house (whom they are not very close to) to live with her because seeing his children every day is just a painful reminder of the wife he lost.
(In case you were wondering - this is very crappy parenting.)
While he's driving Audrey and her brother to their grandmother's house, he gets so exhausted that he has to pull over and stop. So they all wind up at the Hotel Ruby, a glamorous building seemingly in the middle of nowhere. Their intentions are only to stay for one night, but life at the Ruby becomes intoxicating, and nobody wants to leave. For the first time in forever, Audrey's family starts to feel like an actual family again, and nobody's willing to close the curtain on that production.
But the Ruby is famously haunted, and everyone's wondering just when they'll run into these infamous ghosts that keep being talked about.
I really, really, really, really, really enjoyed this book. I devoured it in all of two days, reading over 200 pages in a single school day (much to my teachers' dismay) just because I couldn't put the book down and I kept wanting to know what would happen next. I fell head over heels in love with Eli, I'll admit that without a single ounce of shame. He was everything perfect about a guy (in real life and in books, which makes me fall in love with them every single time): classy, elegant, sharply dressed, witty, flirty and romantic. He is literally the perfect book boyfriend. And of course Audrey thinks so too, because she falls for him, hard and fast, more in love with him than she'd ever loved anybody before.
A smart decision. I think I would do the same in her case.
There are definitely some elements of the plot that I suspected, but the way that Suzanne Young pulls everything off still shocks you in all the best ways. I sort of suspected that big ending plot twist, but when I was hit with it I was still floored and absolutely shocked and it was GREAT! I actually texted Amber as soon as I finished this book because my feels were all over the place and I just didn't know what to do. It didn't really help that I finished this book in the middle of my photography class so I had to go back into the real world right away - I had virtually no time to recover from my book hangover.
All in all, Hotel Ruby was a chilling, emotional, creepy book that gave me all the thrills, chills and feels! This book takes you on a roller coaster of romance, horror, grief and more and I'm so happy that I was able to review this book for Simon Pulse. This book is a standalone, which I definitely agree with (some perfect things just can't be rushed), but I wish I could follow everyone in the novel even further, because I loved them all! (Also, that ending sentence seriously messed me the heck up.) I'm not a fan of throwing five-star reviews around, so when I give a book (Such as this one) a five-star rating, it really means that I thought it was fantastic!
That's all I really have to say - I've got nothing else except that everyone definitely needs to get their hands on a copy of this book as soon as possible!! Another thank you to Simon Pulse for this opportunity!
Rating: