"Waiting On Wednesday" is a weekly meme hosted by

Breaking The Spine

where we highlight some of the upcoming books we can't wait to read!
Amber's Waiting on:
Title:
The Black Key (The Lone City #3)
Author: Amy Ewing
Genre: Science Fiction, Fantasy, Dystopia
Publisher:
HarperTeen
Publication Date:
October 4th 2016
Summary:
For too long, Violet and the people of the outer circles of the Lone City have lived in service to the royalty of the Jewel. But now the secret society known as the Black Key is preparing to seize power. And while Violet knows she is at the center of this rebellion, she has a more personal stake in it—her sister, Hazel, has been taken by the Duchess of the Lake. Now, after fighting so hard to escape the Jewel, Violet must do everything in her power to return to save not only Hazel, but the future of the Lone City.
Jessica's Waiting on: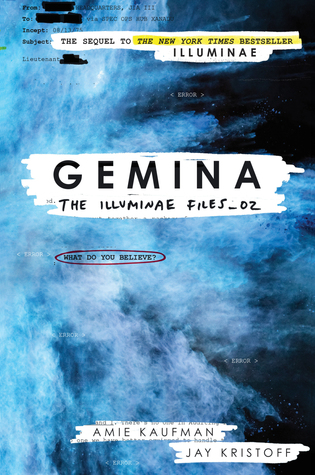 Title: Gemina (The Illuminae Files, #2)
Authors: Amie Kaufman and Jay Kristoff
Genre: Sci-Fi
Publisher: Knopf Books
Publication Date: October 18th, 2016
Summary:

Moving to a space station at the edge of the galaxy was always going to be the death of Hanna's social life. Nobody said it might actually get her killed.

Hanna Donnelly is the station captain's pampered daughter; Nik Malikov the reluctant member of a notorious crime family. But while the pair are struggling with the realities of life aboard the galaxy's most boring space station, little do they know that Kady Grant and the Hypatia are headed right toward Heimdall, carrying news of the Kerenza invasion.

When an elite BeiTech strike team invades the station, Hanna and Nik are thrown together to defend their home. But alien predators are picking off the station residents one by one, and a malfunction in the station's wormhole means the space-time continuum might be ripped in two before dinner. Soon Hanna and Nik aren't just fighting for their own surivival; the fate of everyone on the Hypatia—and possibly the known universe—is in their hands.

But relax. They've totally got this. They hope.
Illuminae was one of the weirdest books I've ever read, but it was still definitely one of the best. So I am so excited to get my hands on the second book in the series, and I hope it shocks and amazes me just as much as the first book did!
What are you waiting on this week? Leave your links so we can stop back!