"Waiting On Wednesday" is a weekly meme hosted by

Breaking The Spine

where we highlight some of the upcoming books we can't wait to read!
Amber's Waiting on: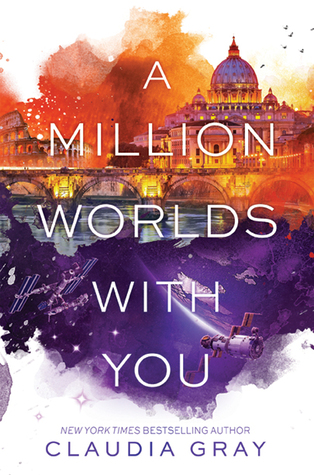 Title:
A Million Worlds with You (Firebird #3)
Author: Claudia Gray
Genre: Science Fiction
Publisher:
HarperTeen
Publication Date:
November 1st 2016
Summary:
A million universes. A million dangers. One destiny. The fate of the multiverse rests in Marguerite Caine's hands. Marguerite has been at the center of a cross-dimensional feud since she first traveled to another universe using her parents' invention, the Firebird. Only now has she learned the true plans of the evil Triad Corporation—and that those plans could spell doom for dozens or hundreds of universes, each facing total annihilation. Paul Markov has always been at Marguerite's side, but Triad's last attack has left him a changed man—angry and shadowed by tragedy. He struggles to overcome the damage done to him, but despite Marguerite's efforts to help, Paul may never be the same again. So it's up to Marguerite alone to stop the destruction of the multiverse. Billions of lives are at stake. The risks have never been higher. And Triad has unleashed its ultimate weapon: another dimension's Marguerite—wicked, psychologically twisted, and always one step ahead. In the epic conclusion to Claudia Gray's Firebird trilogy, fate and family will be questioned, loves will be won and lost, and the multiverse will be forever changed. It's a battle of the Marguerites . . . and only one can win.

Jessica's Waiting on:
Title: The Black Key (The Lone City, #3)
Author: Amy Ewing
Genre: Fantasy
Publisher: HarperTeen
Publication Date: October 4th, 2016
Summary: For too long, Violet and the people of the outer circles of the Lone City have lived in service to the royalty of the Jewel. But now the secret society known as the Black Key is preparing to seize power. And while Violet knows she is at the center of this rebellion, she has a more personal stake in it—her sister, Hazel, has been taken by the Duchess of the Lake. Now, after fighting so hard to escape the Jewel, Violet must do everything in her power to return to save not only Hazel, but the future of the Lone City.
After the ending of The White Rose, I've been DYING to get my hands on this book!! I can't wait for it!!
What are you waiting on this week? Leave your links so we can stop back!