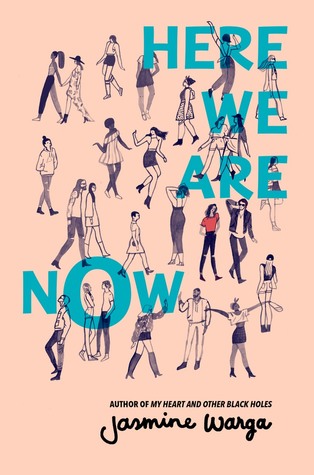 Title:
Here We Are Now
Author: Jasmine Warga
Rating: 4/5 Stars
Publisher: Balzer + Bray
Hardcover, 304 Pages
Published November 2017
Summary:

Despite sending him letters ever since she was thirteen, Taliah Abdallat never thought she'd ever really meet Julian Oliver. But one day, while her mother is out of the country, the famed rock star from Staring Into the Abyss shows up on her doorstep. This makes sense - kinda - because Julian Oliver is Taliah's father, even though her mother would never admit it to her.

Julian asks if Taliah if she will drop everything and go with him to his hometown of Oak Falls, Indiana, to meet his father - her grandfather - who is nearing the end of his life. Taliah, torn between betraying her mother's trust and meeting the family she has never known, goes.

With her best friend Harlow by her side, Taliah embarks on a three-day journey to find out everything about her 'father' and her family. But Julian isn't the father Taliah always hoped for, and revelations about her mother's past are seriously shaking her foundation. Through all these new experiences, Taliah will have to find new ways to be true to herself, honoring her past and her future.






Today on the blog we have a guest review from Lauren over at Reading, Writing, and Me! She was kind enough to stop by and review Here We Are Now by Jasmine Warga and share her thoughts on it, and we couldn't be more excited to have her here, especially since Jessica recently finished the book as well and is excited to see someone else's opinion on it! So without further ado, let's get into it!
Have you ever wondered what it would be like to discover your dad was a rock star? A dad you have never met or heard your mother speak of. A dad you discovered through your own sleuthing and sent letters for three years with no reply. Then he shows up on your doorstep ready to take you on a road trip to meet an extended family you'd never even imagined. All while your mother is away in Paris. Whether you've imagined this scenario or not, Jasmine Warga has crafted it into a fun, YA contemporary to follow her emotionally wrenching debut, My Heart And Other Black Holes. Overall: 4
Characters: 4 I enjoyed the characters. They were all built well into sturdy pictures and interacted well with each other. I loved both Taliah, the main character, and her best friend Harlow. Their relationship really explores change and how hard that can be for some people. It really made me identify with Tal's character.
I also loved the family relationships this book was so centered on. Tal and her mother are very close, and I really enjoyed their mother-daughter relationship and friendship. I also loved the exploration of their own immigrant identities as Lena is originally from Jordan and Tal is the daughter of an immigrant from an Arabic speaking country. Lena's character in the story about her and Julian's relationship may be my favorite of the book.
It was very interesting to see Tal and Julian build a relationship. Parental bonds just seem to always exist, so building one at sixteen is uncharted territory for all involved. It is beautiful to watch as Tal becomes part of a whole new family, experiencing the kind of extended family she'd never had on her mom's side.
The only reason I detracted points was for Toby who is the love interest. I felt the story would have been stronger if his part had been removed.
Plot: 4 I really loved this story. Intersecting Tal's experiences in Oak Falls and her parent's love story made a beautiful and balanced story. The only thing I would have changed was to center on Harlow and Tal's relationship more throughout. It is very well developed at the beginning, but halfway through Harlow disappeared to bring Toby out of the shadows to give our character a love interest. The romance is never developed very well and is not compelling or believable, unlike the foundation that was established with her relationship with Harlow. It would have been stronger as simply a family and friendship novel which YA does not have enough of!
Writing: 4 Warga has a very clear voice across all of her novels, which I really appreciated. Much like when I pick up a John Green, I picked up this book and knew it was definitely written by Jasmine. While a touch understated and simple for my taste, I think that it does add a beautiful layer of storytelling letting sparse details build together slowly. Clear pictures came through my mind throughout. I also loved the focus on family, friendship, and music!
We'd like to once again thank Lauren for stopping by The Book Bratz today to post this guest review. You can read the original review over on her blog by clicking HERE!
** Psst! Interested in guest reviewing on The Book Bratz? Shoot us an email at thebookbratz@gmail.com or DM us on Twitter (@thebookbratz) and we'd love to have you!