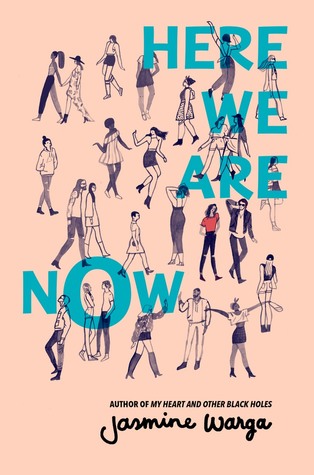 Title:
Here We Are Now
Author: Jasmine Warga
Publisher: Balzer & Bray
Rating: 4/5 Stars
Hardcover, 304 Pages
Published November 2017
Summary:

Despite sending him letters ever since she was thirteen, Taliah Abdallat never thought she'd ever really meet Julian Oliver. But one day, while her mother is out of the country, the famed rock star from Staring Into the Abyss shows up on her doorstep. This makes sense - kinda - because Julian Oliver is Taliah's father, even though her mother would never admit it to her.

Julian asks if Taliah if she will drop everything and go with him to his hometown of Oak Falls, Indiana, to meet his father - her grandfather - who is nearing the end of his life. Taliah, torn between betraying her mother's trust and meeting the family she has never known, goes.

With her best friend Harlow by her side, Taliah embarks on a three-day journey to find out everything about her 'father' and her family. But Julian isn't the father Taliah always hoped for, and revelations about her mother's past are seriously shaking her foundation. Through all these new experiences, Taliah will have to find new ways to be true to herself, honoring her past and her future.
I received a copy of this book for Christmas, and when I did, I was so excited. I really enjoyed Jasmine Warga's previous book, My Heart and Other Black Holes, and the summary (and beautiful cover!) of this story immediately caught my eye. I mean, a father that comes out of the blue and turns out to be a rockstar?! I don't even know how I'd react.
But I'm getting a little ahead of myself here. Onto the summary!
As the blurb above explains, Taliah is sixteen years old and living with her super-smart and accomplished mother. Her father is nowhere to be found, and she spent her entire life being told that he was a random hookup with her mom many, many years ago back in Jordan. But slowly, throughout her life, Taliah starts piecing the clues together, and she eventually has a hunch that her father could possibly be the Julian Oliver, rockstar and heartthrob known all over the world. So, of course, she writes a letter to him. (She writes several letters, actually.) She's beginning to give up on her plan when, one day, the unthinkable happens.
Julian Oliver shows up at her door.
Hardly able to believe it (and definitely a little bit weary), Taliah isn't sure what to say when he invites her on a road trip to see his family and his dying father (which makes him her dying grandfather). But what ensues leads to a lot of darkness and mystery in Taliah's life being brought to light, and the secrets and stories she finds out will shock you.
I loved this story. I feel like it was the perfect blend of serious and cute -- and some of the flashback scenes of Lena and Julian had me smiling from ear to ear (while other ones had my heart breaking). It was really interesting to see Taliah's journey of getting to know her father, rather than just having her meet him and have them immediately become buddy-buddy and act like sixteen years weren't lost and they weren't total strangers. It was refreshingly realistic, and I'm so glad about it. (If anybody knows me, I am not a big fan of mega insta-love.)
My favorite character in this book was definitely Harlow. While her and Taliah bickered some times, she reminded me a lot of myself in the sense that she was the stereotypical voice of reason (which isn't an insult, because, as mentioned, I'm one too!), and she gave Taliah the nudges she needed when the time was right, even if Tal was resisting her with all of her strength. By the end of the book, you realize how great of a friend Harlow really is to Tal, and it just makes your heart fuzzy and warm.
The only thing I wasn't a big fan of in this book was the ambiguity of the ending. (Some spoilers here, please skip to the next paragraph if you don't want the book ruined for you!) While Taliah's parents seemed to be on better ground toward the end at the memorial, there's still no hint if they end up back together, or just friends, or staying in each other's lives more, etc. And then Taliah kisses Toby in front of everyone and nobody notices? I just wanted another chapter or two to explain how everything pans out. Does Taliah end up telling people who her father is? Do the pictures from the record store leak? How do kids at school treat her? What happens with Lena and Julian?! I just wanted to know it all, and while I can certainly enjoy some books that leave you with some questions, I feel like this one left me with too many. When Lena showed up in Oak Falls, I remember being shocked because there wasn't a lot left in the book (only a small amount of pages left), so I was wondering how everything would wrap up in just a short amount of pages. And while some things can definitely be left up to the reader to interpret, I feel like we were left with a little too much questioning to do here.
But other than that, I absolutely loved this book. It made me laugh, smile, cry, and took me on an exciting emotional rollercoaster that I hadn't been expecting. I'm so glad I asked for this for Christmas and decided to pick it up when I did! It also helped that the book was less than 300 pages, which meant I was able to breeze through it quickly, which is definitely something to appreciate when you're on a tight college schedule.
Overall, I really enjoyed Here We Are Now. If you're looking for a story about piecing together your past and going on an adventure to find a part of your life that you never knew you had, this book is definitely the one for you! It's full of love, romance, friendship, and even some loss (and tons of great music references!). I really enjoyed this book and I'm really excited to be reading more of Jasmine Warga's work in the future. She's an excellent writer who had me captivated from the first page to the last!