In 2019, we made it our goal is to work with as many debut authors as possible and spread the word about their debut novels. It was such a success last year that we decided to continue the fun this year as well! Follow us this year as we pick the minds of the 2020 debuts and chat with them. Also stay tuned for news of giveaways, Twitter chats and more!
At the end of 2019, we Tweeted about wanting to discover more debut authors and their books. We ended up finding E.M. Castellan and her novel IN THE SHADOW OF THE SUN, and we have been interested in it ever since. We are so excited to have E.M. on the blog today to answer some of our questions!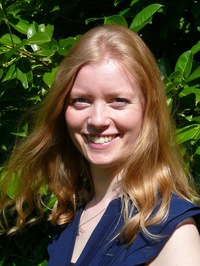 EM Castellan is a writer of YA Historical Fantasy novels. She grew up in France, but she now lives in London, where she's an active member of SCBWI British Isles. A lover of all things historical, she has a particular fondness for 17th Century France and Ancient Rome. Her debut IN THE SHADOW OF THE SUN, was published by Feiwel & Friends in 2020, with its sequel UNDER A STARLIT SKY scheduled for publication in Fall 2021. Some of her stories can be found on Wattpad, where they have been read over 400,000 times, with THE BRIGHT AND THE LOST the winner of the 2017 Wattpad Awards (Wattys) in the Newcomers category, and selected as a Wattpad Featured Story for five months in 2017.
The Book Bratz:
First of all, congratulations! How does it feel to be a debut author?
E.M.:

It feels amazing! My journey towards publication was a long one: eight years from the moment I entered my first pitch contest to the release of my debut IN THE SHADOW OF THE SUN. This gave me plenty of time to prepare for my debut year, and although it hasn't necessarily been what I expected, I'm still very much enjoying the fact that I have a book out into the world.
The Book Bratz:
In your opinion, what's the best part of the writing process? What's the hardest?
E.M.:

I write YA Historical Fantasy, which requires a lot of research. This is a part I love, as well as drafting the story. I also enjoy the editing process, but it's usually the time when I begin questioning every choice of word and every decision I've made about the plot and characterization. It can be hard to know when to stop.
The Book Bratz:
Where did you get the inspiration for IN THE SHADOW OF THE SUN?
E.M.:

I grew up in France, and I've always loved French history. I'm particularly interested in the biography of the Sun King Louis XIV, his Palace of Versailles, and the people who lived at his court – especially the women. So, I chose to focus my book on Louis's often-overlooked sister-in-law Henriette of England, who came to the French court at 16 and led a fascinating life.






The Book Bratz:
Who was your favorite character to write? Who was the most difficult?
E.M.:

Henriette's husband, Philippe, was both my favourite character to write and the most difficult. He is a complex, multi-layered character, but the story is told from Henriette's point-of-view. This means that she has to be the one to unveil his various personality traits and secrets – in as much a credible manner as possible. It took me quite a few rewrites to reach a draft I was happy with.
The Book Bratz:
What kind of research goes into writing a historical fantasy? How do you blend facts with fiction?
E.M.:

I love history, and I actually do research for fun! I have hundreds of pages of notes that I have gathered over the years – on anything from medicine in the Roman empire to how British country estates were run in the 1920s. I'm always reading non-fiction books, watching documentaries, and looking up facts online.

So when it comes to writing a novel, it often takes a few drafts to find the right balance between historical facts and fantasy fiction. Sometimes, historical accuracy has to be abandoned in favour of a good plot twist or magic spell. This is why all my novels include historical notes at the end: I like to explain what's true and what isn't, and why I made the choices I did.
The Book Bratz:
What do you hope that readers will take away from IN THE SHADOW OF THE SUN?
E.M.:

I hope IN THE SHADOW OF THE SUN will awaken their curiosity about the Sun King's court and Versailles: maybe they'll want to find out more about Louis and his palace, or the people who lived in 17th Century France. I also hope they'll enjoy the magical elements in the story, and they'll want to read other Historical Fantasy books.
The Book Bratz:
Do you plan on returning to IN THE SHADOW OF THE SUN in the future, or do you have any other projects in mind? Can you tell us anything about them?
E.M.:

The sequel, UNDER A STARLIT SKY, is scheduled for publication in 2021! The story takes place a few months after IN THE SHADOW OF THE SUN, and we follow the same characters as they face new challenges and perform more magic at Versailles…
Title: In the Shadow of the Sun
Author: E.M. Castellan
Publisher:
Feiwel & Friends
Summary:

It's 1661 in Paris, and magicians thrill nobles with enchanting illusions. Exiled in France, 17-year-old Henriette of England wishes she could use her magic to gain entry at court. Instead, her plan is to hide her magical talents, and accept an arranged marriage to the French king's younger brother.

Henriette soon realizes her fiancé prefers the company of young men to hers, and court magicians turn up killed by a mysterious sorcerer who uses forbidden magic. When an accident forces Henriette to reveal her uniquely powerful gift for enchantments to Louis, he asks for her help: she alone can defeat the dark magician threatening his authority and aid his own plans to build the new, enchanted seat of his power - the Palace of Versailles.
Thank you so much to E.M. for stopping by and answering our questions! We are super excited about IN THE SHADOW OF THE SUN and it's out now for everyone to enjoy!