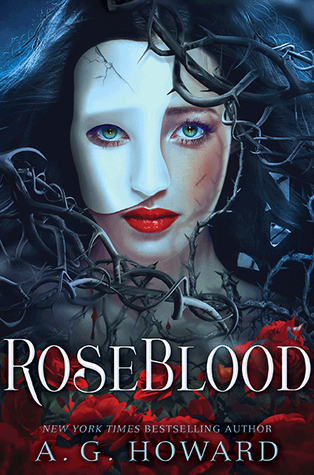 Title: RoseBlood
Author: A.G. Howard
Publisher: Amulet Books
Rating: 3/5 stars
Hardcover, 432 Pages
Published January 2017
Summary:

In this modern day spin on Leroux's gothic tale of unrequited love turned to madness, seventeen-year-old Rune Germain has a mysterious affliction linked to her operatic talent, and a horrifying mistake she's trying to hide. Hoping creative direction will help her, Rune's mother sends her to a French arts conservatory for her senior year, located in an opera house rumored to have ties to The Phantom of the Opera.

At RoseBlood, Rune secretly befriends the masked Thorn—an elusive violinist who not only guides her musical transformation through dreams that seem more real than reality itself, but somehow knows who she is behind her own masks. As the two discover an otherworldly connection and a soul-deep romance blossoms, Thorn's dark agenda comes to light and he's forced to make a deadly choice: lead Rune to her destruction, or face the wrath of the phantom who has haunted the opera house for a century, and is the only father he's ever known.
To start off, it feels so good to write a review again. I haven't done this in the longest time because college is actually awful for reading and being productive and blogging, so it's a foreign feeling to go back to writing reviews, let alone actually finishing a book! So I'm really glad to be able to hop back into this again, and here's to hoping that I haven't lost my touch. :-)
Okay. So, basically anybody that knows me knows that I live and breathe The Phantom of the Opera. I've seen it on Broadway multiple times (which equals a lot of money being lost to the money monster that is Broadway). I've seen the movie so many time that I've had to buy a replacement copy of the DVD (multiple times) because the original kept cracking and scratching due to constant use. My sweet sixteen was even Phantom themed, for crying out loud. So when I heard that there was going to be a YA novel that was based off of (in my opinion) the greatest story of all time, I pre-ordered it immediately.
Yep. Right away. Didn't even read the summary or investigate it or anything. My first thought was that I needed that book in my possession as soon as it was available, and my second thought was that I maybe wanted to look a little more into it. (This was, of course, after the order was placed, and I didn't regret a single thing.)
So, as the summary explains, the story takes place in an old opera house that was recently renovated to become a boarding school for students with musical talents. And, as rumors go, it's believed to be haunted by the original Phantom of the Opera, although that couldn't possibly be true, could it?
Boy, was everyone in for a surprise.
What I liked about this book was that it kept very true to the original story while still incorporating aspects that were unique to it. Some retellings tend to stick so close to the original that it's barely a retelling at all, while other stories stray so far from the original story that you can barely recognize it anymore. RoseBlood, however, has a perfect blend of fresh, new theories and aspects to the Phantom's story while remaining true to such an old and important tale. That was really refreshing to see. The incorporation of a "second" phantom into the story -- Thorn -- was something that I was weary of at first but ended up appreciating a lot. He added more depth (and not to mention tons of romantic tension!) to the story. (Plus, the twin flames thing made me cry. In class. Several times.)
The Phantom was always portrayed as a dark, dangerous, brooding character, but this story brings him to that level in a totally different way, in a way that you'd never expect (and I certainly won't be spoiling it for you!), and it was just really refreshing and interesting and a take on the theory of how the Phantom came to be and how he lived that I had never really considered before. While keeping him this way, there was also an added depth of semi-compassion and humanity that isn't as prevalent in previous tellings of the story, so while the Phantom still remained his normally moody character, you get to explore a whole different side of him in this story.
ALL OF THE PHANTOM REFERENCES!! I WAS NERDING OUT INTERNALLY AND I WAS SO GLAD I WAS NOT THE ONLY HUMAN BEING TO RETAIN ALL OF THOSE SMALL FACTS FROM THE MOVIE AND STORY AND PLAY AND THAT OTHER PEOPLE UNDERSTAND AND APPRECIATE THEM!!!!!!

*Breathes and recomposes self*
Okay, back to our regularly scheduled program.
However, there were a few parts of this book that I wasn't really keen on. The biggest one is definitely how quickly Rune and Thorn became close. It reeked of insta-love to me, which is the one thing in a story that immediately makes me weary. Fantasy story or not, a story seems to be watered down a little when you add an insta-love factor. Not something I was crazy about.
The second thing that bothered me a little bit was that there were numerous grammatical errors -- not just typos, but also grammatical things that were so glaring and obvious that if I picked up on them right away, an editor definitely should have also. (For example, Rune's dress is described as "shear" in one scene rather than "sheer" -- which made me pause at first, so then I researched it, and it turns out that my suspicions were correct, and that the wrong form of the word was used.)
However, in the grand scheme of things, the two things that bothered me a little bit are relatively small and don't take away from the story as a whole, so I recommend picking it up and giving it a read and deciding how you feel for yourself!
Overall, I enjoyed RoseBlood. As a big Phantom fan, I was worried that I would hate it and be overly critical and get upset that it deviated from the original story and messed everything up. However, Howard does a great job of blending the old with the new, and creating an amazing story that any fan of this timeless classic will enjoy!