"Waiting On Wednesday" is a weekly meme hosted by Breaking The Spine where we highlight some of the upcoming books we can't wait to read!

Amber's Waiting On:
Title: The Shadow Queen
Author: C.J. Redwine
Genre: Fantasy
Publisher: Balzer + Bray
Publication Date: February 23rd 2016
Summary:
Lorelai Diederich, crown princess and fugitive at large, has one mission: kill the wicked queen who took both the Ravenspire throne and the life of her father. To do that, Lorelai needs to use the one weapon she and Queen Irina have in common—magic. She'll have to be stronger, faster, and more powerful than Irina, the most dangerous sorceress Ravenspire has ever seen.




In the neighboring kingdom of Eldr, when Prince Kol's father and older brother are killed by an invading army of magic-wielding ogres, the second-born prince is suddenly given the responsibility of saving his kingdom. To do that, Kol needs magic—and the only way to get it is to make a deal with the queen of Ravenspire, promise to become her personal huntsman…and bring her Lorelai's heart.

But Lorelai is nothing like Kol expected—beautiful, fierce, and unstoppable—and despite dark magic, Lorelai is drawn in by the passionate and troubled king. Fighting to stay one step ahead of the dragon huntsman—who she likes far more than she should—Lorelai does everything in her power to ruin the wicked queen. But Irina isn't going down without a fight, and her final move may cost the princess the one thing she still has left to lose.

Why the hell is it only July? I need February NOW. I am not sure if I am more in love with the cover or the summary right now.

Jessica's Waiting On: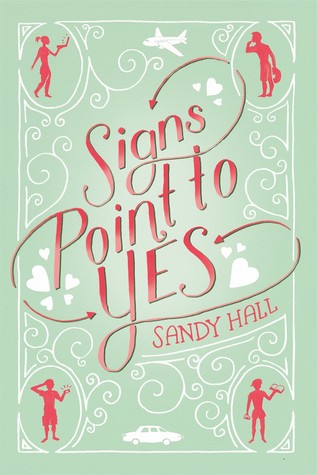 Title: Signs Point to Yes
Author: Sandy Hall
Genre: Romance/Contemporary
Publisher: Swoon Reads
Publication Date: October 20th 2015
Add it on Goodreads! / Pre-Order It On Amazon
Summary: Jane, a superstitious fangirl, takes an anonymous babysitting job to avoid an unpaid internship with her college-obsessed mom. The only problem? She's babysitting the siblings of her childhood friend and new crush, Teo.

Teo doesn't dislike Jane, but his best friend Ravi hates her, and is determined to keep them apart. So Teo's pretty sure his plans for a peaceful summer are shot. His only hope is that his intermittent search for his birth father will finally pan out and he'll find a new, less awkward home. Meanwhile, at Jane's house, her sister Margo wants to come out as bisexual, but she's terrified of how her parents will react.

In a summer filled with secrets and questions, even Jane's Magic 8 ball can't give them clear answers, but Signs Point to Yes.
I loved Sandy Hall's debut novel A Little Something Different, so naturally I can't wait to get my hands on this one! It sounds super cute, and I loved all of the titles I've been sent by Swoon Reads so far. My copy is on its way in the mail and I can't wait because I know I'm going to love this one, too. :)
What are you waiting on this week? Leave your links and we will stop back!