Title: Forged (Altered #0.5)
Author: Jennifer Rush
Genre: Science Fiction
Source: Bought (It is only $.99 from Amazon!)
Publisher: Little, Brown Books for Young Readers
Publication Date: December 3rd 2013
Add it to Goodreads / Buy it on Amazon
Summary:
Before Anna and Sam, there was Dani and Sam. There's one rule that all Branch operatives must live by: No attachments. When Dani O'Brien entered the Branch, she planned to trade her freedom so that her family could have a better life. But joining up with the mysterious organization is more than she bargained for. Branch head Connor watches over her closely--too closely. The training is brutal, the experiments are secret, and the missions promise to be anything but ordinary. The only thing getting Dani through each day is the hope that she'll run into Sam--a young man, about her age, who wears the world on his shoulders.
Review:
I said in my Altered review that I would be talking about these covers again. I am sorry, but I have too! I love how they are gray scale with the colored text. I want to say that was the first thing my eyes took it, but it wasn't. It was Sam's yummy looking chest. Like I've said: Favorite covers with a model on them hands down.
In my review of Altered I didn't talk about Dani at all. So I'll talk about her a little now. Long story short, Anna had an older sister named Dani. Sadly she is dead. Before Sam's memory was wiped him and Dani were in love. He went back to The Branch for her. I didn't talk about it in my Altered review because of spoilers and all but it isn't that big of a deal. Bigger things happen in Altered then that.
In Forged we learn how Dani first entered The Branch. She was naive and did it to protect her sister. At the time she didn't know Sam and she was desperate for Anna to have a better life then she did. Their father was addicted to pain pills and alcohol and their mother was a harsh woman who learned from her husband. Under the promise that if Dani went and work for The Branch her home life would be fixed. She accepted. It isn't until the end of this 32 page novella does Dani realize she made a HUGE mistake.
I love how this novella makes you like Connor (He is the head of The Branch and a horrible person in Altered) Honestly, I didn't realize how young he was. I expect a man in his fifties, sixties even! But Connor seems barley old enough to drink. For a few pages I actually shipped him and Dani. Then I realized that Dani ends up with Sam. I expected the novella to focus more on her and Sam falling in love, but it was more of Dani falling into place with in The Branch. We don't officially meet Sam until the last several pages.
I have too say, I did like this novella. I am not a fan of novellas because I typically like more in a story so I tend to avoid them. But if I like a series enough I will give them a shot. I am pretty excited now to start on the other novellas in this series. Suggestion though: Read Altered before Forged!
Rating:
Check out my review of Altered !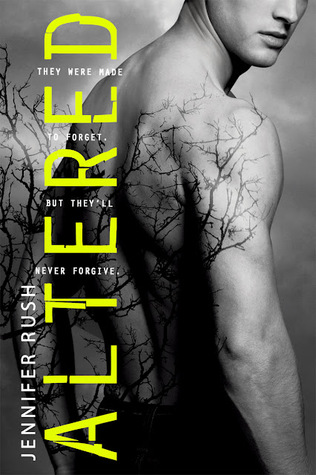 *Click the cover to be redirected*