Welcome to the second stop of the

2015 Summer Blogger Promo Tour

, hosted by us ladies at The Book Bratz! This is a summer-long tour where we'll be introducing you to different book bloggers and their awesome blogs every Sunday - if you're interested in learning more about the tour, click here.
Today, we have Lauren from The Tattooed Biblio here participating in a Waiting on Sunday meme! (It's the same as Waiting on Wednesday, just on a Sunday for the sake of the tour.)
Lauren's Waiting On: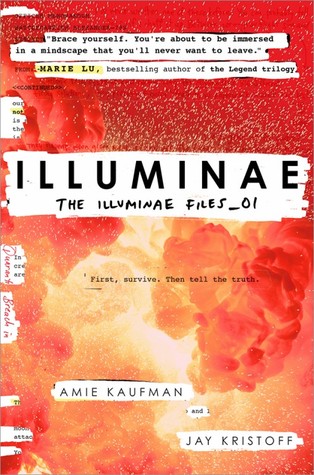 Title: Illuminae (The Illuminae Files, #1)
Authors: Amie Kaufman and Jay Kristoff
Publisher: Knopf Books
Date of Publication: October 20th, 2015
Summary: This morning, Kady thought breaking up with Ezra was the hardest thing she'd have to do.

This afternoon, her planet was invaded.

The year is 2575, and two rival megacorporations are at war over a planet that's little more than an ice-covered speck at the edge of the universe. Too bad nobody thought to warn the people living on it. With enemy fire raining down on them, Kady and Ezra—who are barely even talking to each other—are forced to fight their way onto an evacuating fleet, with an enemy warship in hot pursuit.

But their problems are just getting started. A deadly plague has broken out and is mutating, with terrifying results; the fleet's AI, which should be protecting them, may actually be their enemy; and nobody in charge will say what's really going on. As Kady hacks into a tangled web of data to find the truth, it's clear only one person can help her bring it all to light: the ex-boyfriend she swore she'd never speak to again.

Told through a fascinating dossier of hacked documents—including emails, schematics, military files, IMs, medical reports, interviews, and more—Illuminae is the first book in a heart-stopping, high-octane trilogy about lives interrupted, the price of truth, and the courage of everyday heroes.
Why Lauren's Excited: "This novel has all the essentials I need: set in the future, dystopian society, and a plague. I'm hoping the characters will have depth, and the world-building will be rich with detail because this sounds like the perfect novel for me!"
About Lauren:
Lauren is a tattooed bibliophile with a thirst for literature and the more bookish things in life. She spends her free time with her nerdy boyfriend and her weeny dog. There are too many favorite authors to list, but she enjoys a variety of genres including, but not limited to.. historical fiction, horror, apocalyptic, dystopian, science fiction, fantasy, memoirs, and the classics. She hopes to one day time travel, live in a different country, get a bookish job, and most importantly... own enough bookshelves to hold all of her books.
Keep up with Lauren on her blog, Twitter, Instagram, Facebook and Goodreads!
Check back next Sunday, when we'll be featuring Sarena & Sasha from The Writing Duo!
Also, check out past posts from this summer's 2015 Summer Blogger Promo Tour: