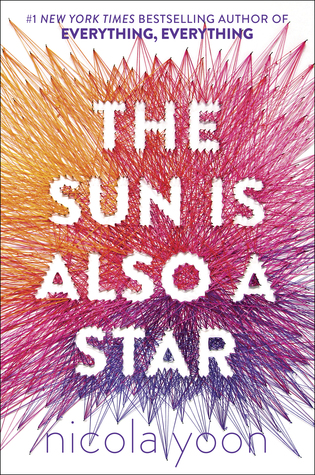 Title: The Sun Is Also a Star
Author: Nicola Yoon
Publisher: Delacorte Press
Rating: 4/5 Stars
Hardcover, 348 Pages
Published November 2016
Summary:

Natasha: I'm a girl who believes in science and facts. Not fate. Not destiny. Or dreams that will never come true. I'm definitely not the kind of girl who meets a cute boy on a crowded New York City street and falls in love with him. Not when my family is twelve hours away from being deported to Jamaica. Falling in love with him won't be my story. Daniel: I've always been the good son, the good student, living up to my parents' high expectations. Never the poet. Or the dreamer. But when I see her, I forget about all that. Something about Natasha makes me think that fate has something much more extraordinary in store—for both of us. The Universe: Every moment in our lives has brought us to this single moment. A million futures lie before us. Which one will come true?
From the moment I finished Everything, Everything after getting a copy at BookCon two years ago, I knew that Nicola Yoon was the kind of writer that I was going to really enjoy. So when word got around about The Sun Is Also a Star, I knew it was going to be something that I wanted to get my hands on and read. And let me just say, I'm glad I did.
As the summary explains, the story follows Natasha and Daniel, two totally different teenage characters with different stories and life histories who happen to intersect and connect. With one being an illegal immigrant about to be deported and the other being torn between growing up in his heritage and the world he's currently living in, you'd expect their personalities to clash, but it turns out to be the opposite. Daniel becomes immediately infatuated with Natasha, who is the kind of girl who doesn't believe in love or coincidences, only cold, hard facts. So Daniel sets out on a mission (with Natasha's last twelve hours in America) to get her to fall in love with him -- through a scientific analysis. The question is, will it work? (And I won't tell you about that -- you need to read the book yourself to find out!!)
There were so many things that I enjoyed about this book. For starters, I've been interested in Nicola Yoon and her writing for awhile now, and from her social media and her interactions with other readers, I've noticed that there are some aspects of her own life that tie into this story, especially culturally. Knowing that about the author when I read this book made it an even more enriching experience, which I really enjoyed. (And to be entirely honest, it didn't click for me until about halfway through, when I remembered how Nicola had once posted something on Twitter about her family, and I noticed some cute parallels there.)
Another thing that I really enjoyed about this book was that it covered many important topics that are specifically prevalent in society today. Just a handful of the things covered in this book are immigration (both legal and illegal), relationships, racial prejudice, and -- my personal favorite -- the rich diversity of New York City. (I'm also a little biased, being that I live here, but it's nice to see my city portrayed in a light that shows it for the cultural blend it is, with many different neighborhoods and people and situations and stories.)
This book was told in dual-perspective with a ton of other perspectives inter-woven throughout, which seemed a bit confusing at first, but it turned out to be a really important aspect of the novel. While a majority of the story was told from the point of view of Daniel and Natasha, there were chapters that were told from the point of view of a security guard, the paralegal, and even their parents. There were also chapters that were a brief pause in the story to give background to something that just previously happened. Just some of the things covered were the background of Jamaican culture or the chemical story of love. These things may at first seem like an unnecessary interruption, but they aid in adding more depth and background to the story to help the reader understand it better.
(Major spoilers ahead, so please skip to the next paragraph if you haven't read this book yet!) I even felt like the ending of the book was incredibly important -- the fact that, try as she might, Natasha isn't able to undo her deportation, and her and Daniel have to end up going their separate ways. Even though I was rooting for them and it was really sad and heartbreaking to see, Nicola Yoon pointed out an aspect of the real world that not everyone likes to acknowledge -- that we don't always get our happy endings, at least not in the ways we originally plan for them to be. (Because, since you're this far into the paragraph I'm sure you read the book by now, Daniel and Natasha end up crossing paths again on an airplane a few years later.) I remember getting to the end and sitting there stunned for a second, upset that the two main characters didn't get the love they so truly deserved. However, after a few more seconds, I realized that the book couldn't have ended any other way (sort of how I feel about La La Land) -- if it did, the story wouldn't have any point. All of the hardships the characters had endured up until that moment would have vanished into thin air and meant nothing. So yes, even if the ending made me a little sad (until the epilogue!), I feel that it was necessary and Yoon pulled it off flawlessly.
(A few minor spoilers here! Keep skipping!) The only thing about this book that I wasn't that keen on was the insta-love factor. (For those of you who have been around here awhile, you know that's the one thing in stories that I really don't like.) I just feel that realistically, Natasha and Daniel wouldn't have been able to fall for each other that quickly. Maybe Daniel could, because I do believe in love at first sight, but Natasha had been so vehemently against love one minute, and the next she started getting serious feelings about Daniel. It just seemed a little rushed to me...but the entire book is set in the span of about twelve hours, so maybe that was the intention. Who knows? Just a thought.
Overall, I really enjoyed The Sun Is Also a Star and I'd recommend it to anybody looking for a little bit of romance while also wanting to read a story that deals with a lot of society's current issues. I finished this book in about 24 hours because I couldn't tear myself away. I definitely really liked this story and I can't wait to read Nicola's next work -- and I can't wait to see her at BookCon 2017!