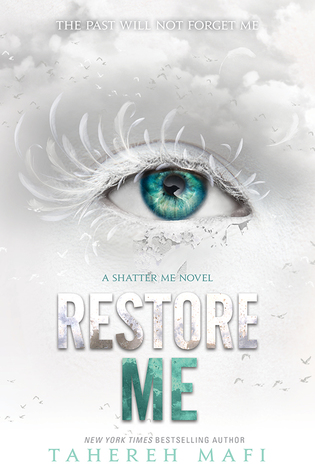 Title:
Restore Me
Author: Tahereh Mafi
Publisher: HarperCollins
Rating: 5/5 Stars
Hardcover, 448 Pages
Published March 2018
Summary:

Juliette Ferrars thought she'd won. She took over Sector 45, was named the new Supreme Commander, and now has Warner by her side. But she's still the girl with the ability to kill with a single touch—and now she's got the whole world in the palm of her hand. When tragedy hits, who will she become? Will she be able to control the power she wields and use it for good?
Amber, Emily, and I went to the release day launch party for Restore Me at Books of Wonder last month, and it was so exciting and so much fun to get the book on its release day and to immediately get reading! If you're interested in learning more about the release day launch party for Restore Me, you can click here.
Now, onto the book itself! It had been quite some time since I'd read the Shatter Me series, so I was a bit worried that I wasn't going to be able to properly dive into the book and remember everything. Things were a bit shaky for the first few pages, but then I quickly found myself wrapped in the world and the drama that I knew and loved for so long. I was immediately hooked and couldn't let go. And that's how I tore through this nearly-500 page book in 24 hours.
One of the things I loved most about this book was how it was told in dual-perspective between Warner and Juliette. Anyone that knows me knows that Warner is my absolute favorite character in the book and perhaps my biggest book boyfriend of all-time, however complicated his life may have been. So reading scenes through Warner's perspective made my heart race and I was so in love the entire time.
(Some spoilers in this paragraph!) Speaking of heart racing, there were a lot of sexy scenes to satisfy my Warnerette fangirl heart. I just couldn't put the book down and I was satisfied with the scenes many, many times throughout the book -- which made my inner fangirl squeal, that's for sure! (And then I immediately texted Amber & Emily about it because we are all diehard Warner fangirls.) So if you're Team Warner, I'm happy to report that this book will leave you satisfied in several ways. But if you're Team Adam...no such luck. (Although towards the end of the book I wanted to burst into tears with all of the Warner/Juliette drama and I wanted to scream at them to both stop overreacting and be happy and in love like my fangirl heart truly wants!!!)
A lot of hilarity ensued in this book as well, which I appreciated since the rest of the setting was pretty grim and stressful. Kenji especially had some great little quips, and the opening scene in the book with Juliette, Warner, and Kenji had me smiling from ear to ear and it only just begun. I knew from that moment that I was in for a story that was going to take me on the emotional ride of my life, and I was so pumped for it. And I'm happy to say that Tahereh Mafi delivered that tenfold!
(Major spoilers in this paragraph, too!) The only thing I wasn't a huge fan of in this book was the ending scene at the symposium, which I felt came way too fast. The entire scene with Juliette speaking, getting shot, and taking out 600+ people happened so quickly that I had almost been certain that she was hallucinating or something like that. And then Kenji?! And her friends?! What the heck?!?!?!?!?!?!?!? And Warner, my sweet, lovable (albeit slightly rough-around-the-edges) Warner...in chains. I couldn't believe it. And then, when Juliette was going through the pictures at the end and it's revealed that she truly did know Warner all this time...oh my. OMG. I still can't handle thinking about it. Did he love her since then?! Did he know?!
I was just left with so many pressing questions that I can't wait over a year to have answered!! Tahereh!! Why did you do this to me!!!
(PSA: I am aware that this isn't the most professional review I've written. I'm fangirling super hard over here.)
Overall, I absolutely loved Restore Me and I would 100% recommend that everyone reading this review (and yes, that includes you!) adds the Shatter Me series to your TBR immediately. You definitely won't be sorry if you start this series, and it will absolutely suck you in and refuse to let you go from start to finish. There's so much going on here that feels so personal, so unique, and so intriguing. I have seriously loved this series from way back when it began all the way until now, and I definitely don't feel like that will be stopping any time soon. I was quickly reminded why I love this series and I already can't stop thinking about it and it's consuming all of my thoughts.
Also, I apologize if this review feels a bit like a jumbled mess! I wanted to get my thoughts out while the book was still fresh in my mind, but I'm still reeling from everything that happened and my heart is in a funk right now at the thought of waiting more than a year or two for my next dose of my first love, Aaron Warner. But I guess I'll be doing some rereading in the meantime while I make do, because there are plenty of steamy scenes in the first four books to go around. ;)