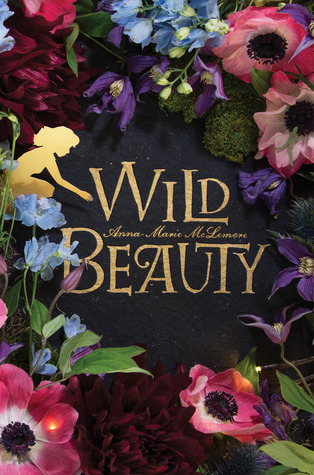 Title:
Wild Beauty
Author: Anna-Marie Lemore
Rating: 4/5 Stars
Publisher: Feiwel & Friends
Hardcover, 352 Pages
Published October 2017
Summary:

For nearly a century, the Nomeolvides women have tended the grounds of La Pradera, the lush estate gardens that enchant guests from around the world. They've also hidden a tragic legacy: if they fall in love too deeply, their lovers vanish. But then, after generations of vanishings, a strange boy appears in the gardens.

The boy is a mystery to Estrella, the Nomeolvides girl who finds him, and to her family, but he's even more a mystery to himself; he knows nothing more about who he is or where he came from than his first name. As Estrella tries to help Fel piece together his unknown past, La Pradera leads them to secrets as dangerous as they are magical in this stunning exploration of love, loss, and family.
Today on the blog we have a guest review from Tessa over at Crazy for YA! She stopped by to review Wild Beauty by Anna-Marie Lemore, a book that none of us Book Bratz have read before but now are so glad to see on our radar! So without further ado, let's get into the review!
There are very few times when the inside of a book is just as beautiful as the outside, especially with the high standards that the colorful blossoms on Wild Beauty's cover set. However, the writing and characters found inside the cover is just as beautiful as the lush cover.
Some people would assume that beautiful writing sacrifices substance for pretty words and lengthy descriptions, but that is simply not true with Wild Beauty. Yes, the writing is full of flowery prose, perceptive descriptions, and flower puns (which I greatly appreciated), but that doesn't mean that the words were empty.
In fact, Wild Beauty is one of the most diverse books I have read. Not only is there major LGBTQ+ representation through the main characters, but the entire cast of character seeps the story in their culture and ethnic history. This book taught me more about Hispanic culture than three years of Spanish classes at my high school. I loved how their traditions, especially the food, were flawlessly incorporated into the story instead of as a token element. There is no separating the Nomeolvides women and their culture, which I greatly admired throughout the story. Also, issues of race and sexuality were expertly woven throughout the story in a realistic way that avoided the didactic tone that many stories can fall into while taking on important issues. There was no lecturing or nagging, just subtle revelations about how these topics fit into real life.
The characters are the true gems, or should I say blossoms, of the story. Not many YA books have a strong focus on family (especially since half of YA features main characters with dead parents), so the strong bond between multiple generations was refreshing. The cast included grandmothers, aunts, mothers, daughters, and cousins, yet I never felt overwhelmed. Each of the cousins were thoroughly developed and I was able to tell them apart (which is truly an accomplishment for me and my mushy memory). By giving each of the cousins distinct characteristics, McLemore was able to maintain a large cast of characters that emphasized the importance of family.
Even though I loved the characters, magic, and diversity, I will say that there was not much of a plot. This book is definitely not the going to deliver epic battles, suspenseful mysteries and all of that jazz. I did not go into the book expecting a ton of action, but there were lags toward the middle of the book with some repetitive plot lines. However, if you are just in it for the action, I would still highly recommend that you keep an open mind and try the story anyway. Although action is not the main focus of the story, the amazing Nomeolvides family and their flowery magic is.
Due to the diverse cast of characters, heartwarming emphasis on family, and the beauty growing out of the writing, I would recommend Wild Beauty to anyone undeterred by a slower pace.
We'd like to once again thank Tessa for stopping by The Book Bratz today to post this guest review. Don't forget to check out Crazy for YA!
** Psst! Interested in guest reviewing on The Book Bratz? Shoot us an email at thebookbratz@gmail.com or DM us on Twitter (@thebookbratz) and we'd love to have you!