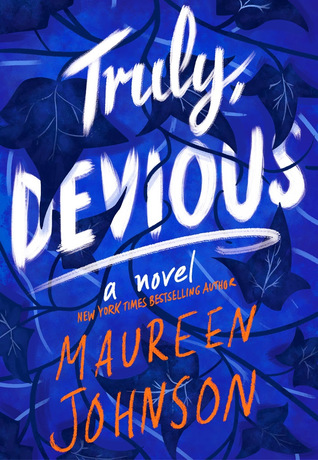 Title:
Truly Devious
Author: Maureen Johnson
Publisher: HarperCollins
Rating: 5/5 Stars
Hardcover, 416 Pages
Published January 2018
Summary:

Ellingham Academy is a famous private school in Vermont for the brightest thinkers, inventors, and artists. It was founded by Albert Ellingham, an early twentieth century tycoon, who wanted to make a wonderful place full of riddles, twisting pathways, and gardens. "A place" he said, "where learning is a game."

Shortly after the school opened, his wife and daughter were kidnapped. The only real clue was a mocking riddle listing methods of murder, signed with the frightening pseudonym, Truly Devious. It became one of the great unsolved crimes of American history.

True-crime aficionado Stevie Bell is set to begin her first year at Ellingham Academy, and she has an ambitious plan: She will solve this cold case. That is, she will solve the case when she gets a grip on her demanding new school life and her housemates: the inventor, the novelist, the actor, the artist, and the jokester. But something strange is happening. Truly Devious makes a surprise return, and death revisits Ellingham Academy. The past has crawled out of its grave. Someone has gotten away with murder.
I've been a Maureen Johnson fan (both her writing and her Twitter account) for the longest time, so, needless to say, when I found out about Truly Devious, I automatically knew I wanted to read this book. I mean, a creepy, disturbing murder occurring at a secluded boarding school and then trying to be solved by a student there? I'm a huge dark mystery fan, so this book seemed like it was right up my alley. And trust me, once I started reading, I realized that it really was. I absolutely tore through this book and I couldn't put it down, because I kept wanting to know what would happen next. This book seriously hooks you and doesn't let you go -- just like the tantilizing Ellingham mystery.
I really enjoyed Stevie's character -- she was definitely my favorite in the book. She was quiet and curious, mysterious and also really intelligent and sarcastic in a way that only Maureen can write characters -- I don't know if this is just speculation or not, but I definitely saw traces of her humor in Stevie! Speaking of humor, I also really liked Nate's sarcastic, dry humor. There were several times while I was reading that I had to stop and take pictures of some of the lines in the book that made me laugh out loud and I absolutely had to share them with my boyfriend. Maureen also threw in some personal jokes that made sense after having followed her on Twitter for so long, like Stevie's parents supporting a "racist, fascist bigot" and a few mentions about the Zodiac Killer, which was a possible nod to her hilarious Tweets about Ted Cruz.
Something else that I really enjoyed about this book was the way that there were so many different elements and mysteries that were unfolding at the same time without feeling overwhelming or confusing. Not only was Stevie trying to figure out the Ellingham case, but she was also trying to figure out Hayes and David and Ellie and all of her new friends. And how life worked at Ellingham. And clues for each different curiosity slowly started to pop up, and eventually there was a lot going on in this book, but all of it hooks you in without seeming crazy or confusing -- it's hard to explain without reading the book yourself, but it just works.
I really liked the alternating stories in the present and the past that also took place. This book has two "points of view", so to speak, even though it's told entirely in third person -- in some chapters, you are peeking through back at what happened at Ellingham when the case occurred. And in others, you are witnessing Stevie navigate life at Ellingham in the present. The contrasts and the similarities are interesting to witness, as well as knowing some personal, first-hand events about the case that Stevie may not have necessarily known or experienced herself while trying to solve the mystery. It's a nice way of keeping the reader in the know all the time, and I really enjoyed exploring that.
There was absolutely nothing I disliked about this book. I have nothing to say in the critique department, because this book was great and I'm already starting to push it on everyone I know, because it's just that good. And the ending left me with so many eager questions that I can't wait to have explored in the sequel!
And you guys. There were seriously so many plot twists in this book that I wasn't expecting and it made the story all the more gripping and I seriously sat down all day and read over 300 pages in one sitting just because I couldn't stop flipping the pages!
Overall, I absolutely loved Truly Devious. I couldn't put this book down, and the mystery captivated me from start to finish. If you're looking for a chilling mystery to capture your attention, this book is definitely perfect for you. Put this book on your TBR immediately -- you won't be sorry! I already can't wait for the second book next year!