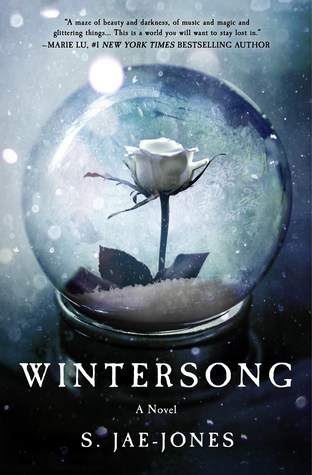 Title:
Wintersong
Author: S. Jae-Jones
Rating: 4/5 Stars
Publisher: Thomas Dunne Books
Hardcover, 436 Pages
Published February 2017
Summary:

All her life, nineteen-year-old Liesl has heard tales of the beautiful, mysterious Goblin King. He is the Lord of Mischief, the Ruler Underground, and the muse around which her music is composed. Yet, as Liesl helps shoulder the burden of running her family's inn, her dreams of composition and childish fancies about the Goblin King must be set aside in favor of more practical concerns.

But when her sister Käthe is taken by the goblins, Liesl journeys to their realm to rescue her sister and return her to the world above. The Goblin King agrees to let Käthe go—for a price. The life of a maiden must be given to the land, in accordance with the old laws. A life for a life, he says. Without sacrifice, nothing good can grow. Without death, there can be no rebirth. In exchange for her sister's freedom, Liesl offers her hand in marriage to the Goblin King. He accepts.

Down in the Underground, Liesl discovers that the Goblin King still inspires her—musically, physically, emotionally. Yet even as her talent blossoms, Liesl's life is slowly fading away, the price she paid for becoming the Goblin King's bride. As the two of them grow closer, they must learn just what it is they are each willing to sacrifice: her life, her music, or the end of the world.






Today on the blog we have a guest review from Grant over at The Writer's Block! He was kind enough to stop by and review Gentleman's Guide and share her thoughts on it, and we couldn't be more excited to have him. So without further ado, let's get into it!
Full of wonder, magic, and music, Wintersong is a visual fairytale without the fairies. A story told through the eyes and heart of Elisabeth and her selfless sacrifice for her sister. Or was her sacrifice as selfless as first perceived?
In Wintersong reader's will see a theme of lyrics, love, lust, liberation, and limbo between a quickly expiring childhood and an uncertain future. Elisabeth's insecure and emotionally disrupted nature shaken after being the willing hostage of her childhood crush turned Goblin King of the mysterious, carefully shrouded, rearranging, and mystical underworld. She becomes the Queen to the brooding King and somehow the power of the position awakens new reserves of strength and confidence within the girl everyone always overlooked.
With insecurities nearly tucked away by the power of music, melodies, and royalty, surprisingly Elisabeth may just find what she is looking for….fulfillment in song and adventure!
The Goblin King is a cross between a debonair ghost from Elisabeth's past and a villain willing to hold a young maiden captive to his command in his underworld kingdom of magic. He is so perfectly described as, "…standing in a far corner of the main hall, leaning against the wall with his arms crossed. The tall, elegant stranger. The Goblin King. He was the still point around which everything revolved. He was reality where everything else was a reflection.
Der Erlkönig, Lord of Mischief, Ruler of the Underground? How did one address a legend?"
Although, the lingering childishness of Elisabeth puts a bad spin on this King the Lord of Mischief, he's really not a bad guy. I truly believe that he loved her before that fateful night. (No worries, No spoilers 😉)
This story harkens back to the tale of Beauty and the Beast given that the female protagonist offers herself in exchange for a loved one to be freed from the paws of controlling individual. The Goblin King intrigued me perhaps the most of any character in Wintersong. His brooding, dark, mysterious, larger than life, and sexually charged presence was just the love interest for young Elisabeth that this book needed. And yet music was her one true love till the end.
I give Wintersong ✨✨✨✨ (4 Stars)!!
P.S. Don't forget to check out S. Jae-Jones's sequel to Wintersong, Shadowsong out this February 6, 2018!
We'd like to once again thank Grant for stopping by The Book Bratz today to post this guest review. You can read the original review over on his blog by clicking HERE!
** Psst! Interested in guest reviewing on The Book Bratz? Shoot us an email at thebookbratz@gmail.com or DM us on Twitter (@thebookbratz) and we'd love to have you!