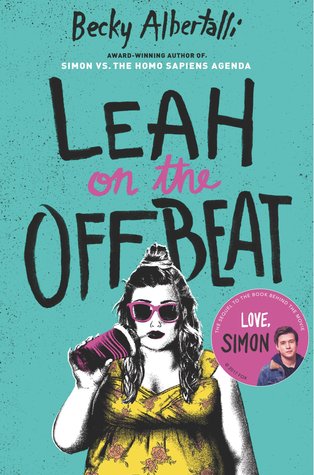 Title:
Leah on the Offbeat (Creekwood, #2)
Author: Becky Albertalli
Publisher: Balzer + Bray
Rating: 4/5 Stars
Hardcover, 352 Pages
Published April 2018
Summary:

Leah Burke—girl-band drummer, master of deadpan, and Simon Spier's best friend from the award-winning Simon vs. the Homo Sapiens Agenda—takes center stage in this novel of first love and senior-year angst.

When it comes to drumming, Leah Burke is usually on beat—but real life isn't always so rhythmic. An anomaly in her friend group, she's the only child of a young, single mom, and her life is decidedly less privileged. She loves to draw but is too self-conscious to show it. And even though her mom knows she's bisexual, she hasn't mustered the courage to tell her friends—not even her openly gay BFF, Simon.

So Leah really doesn't know what to do when her rock-solid friend group starts to fracture in unexpected ways. With prom and college on the horizon, tensions are running high. It's hard for Leah to strike the right note while the people she loves are fighting—especially when she realizes she might love one of them more than she ever intended.
I first read Simon vs. the Homo Sapiens Agenda a looooong time ago, back when it first came out (you can read my review here), so needless to say, I was super stoked when I found out about the Love, Simon movie -- and then when I found about the book's spinoff and closing novel at Creekwood, this time focused all on Leah! Not only do I absolutely *love* the name Leah, but I think that she's such a loyal and badass character in the first book and in the movie, so it's really great to see that she has an entire book all to herself this time around. (Although Simon & the gang really do make pretty regular appearances, which was super heartwarming and cute!)
As the summary explains, Leah Burke is Simon Spier's best friend, and while she's super happy to see him so elated and in love during their senior year of high school, she's harboring a secret that's been killing her inside -- she's bisexual, and the only person that knows is her mother. She can't bring herself to tell her best friend, even when she knows he would be the most accepting person on the planet. So the book follows Leah as she struggles with senior year, hiding that secret, and pining after someone she can't have -- somebody that we know very well. (That is, if you've read the previous book!)
You guys, I absolutely LOVED this book. I preordered it, so it shipped as soon as it was published, and I probably annoyed our poor campus mailroom guy a million times waiting for the book in the meantime. And when it finally showed up, I was so super excited that I immediately sat down, tore the package open, and started reading. I read 300 pages of this book in 2 hours because I just couldn't put it down. I finished the entire book in less than 12 hours (and that's including sleeping and homework!) just because I loved it so much and I was so excited to be sucked back into the Creekwood world.
Side note: I think having seen Love, Simon just last month helped me with this book, because at first I was nervous that I had maybe forgotten some of the smaller points in the story, since I read Simon vs. in 2015! But seeing the movie refreshed a lot of what was happening and made the whole story that much cuter and more understandable. (Although, to be entirely honest, I couldn't stop picturing Simon as Nick Robinson the entire time!! Not that that's a bad thing. He's just officially my new image of Simon now in my head, I guess!)
Spoilers in this paragraph, so please skip to the next one if you don't want to read them! My favorite part about this book was definitely the super adorable prom scene. I really love the fact that they all ended up in the American Girl store for the dinner, which made me laugh, remembering what that place used to look like when I'd gone with Emily in the past, so it was super cute! But the part I was most in love with was definitely the ending, when Leah and Abby have their epic moment.
Overall, I really enjoyed reading Leah on the Offbeat. While it wasn't a super-climatic novel in the sense that Leah didn't go through any of the horrible things Simon had Martin do to him, this book still had an underlying tone of struggle and accepting oneself while also focusing a lot on love, friendship, and nostalgia as senior year comes to a close. If you're looking for the next adorable book to draw you in and leave you feeling warm and fuzzy, I'd definitely recommend Leah on the Offbeat!
As for the question of whether or not this book could stand on its own, I'm sure it totally can, because Leah's story is one all of its own. But if you haven't read Simon vs. yet, I'd totally recommend reading that first, because then you will get the full experience with this book, understanding all of the subtle references and the background history of all of the other characters!