It's officially less than a month before BookCon, which means it's time to get ready and start packing! Every year, we put together a helpful packing guide for newbies and returning members alike, so everyone can make sure that they're prepared for an awesome weekend of fun, friends, and lots of books!
So without further ado, here's what we recommend packing for BookCon 2018!
1. A backpack.
Definitely, hands down, without a doubt. Make sure that you'll be able to fit a decent amount of books and freebies you'll be picking up, along with your lunch and other small things. There are some totes bags that are given away during BookCon. However, don't absolutely count on it! The totes went pretty fast and then you were charged for them at certain booths, so bring a bag (and an extra tote - like the $0.99 ones you buy at the supermarket - just in case.) If you anticipate bringing a lot of books, you can also bring a suitcase to check in that you can stop off at from time to time to drop some of your books into so you can empty your backpack for another round on the floor!
2. A small cross-body bag.
It doesn't need to be anything big -- all it's for is storing your phone, your money, and your schedule. It would be way too much of a hassle to have to fish those things out of your bag of books and freebies and lunch and nonsense. Also store your business cards in there if you plan on giving them out!
3. Your plan!
Write down all of the panels, signings and such that you know you MUST attend, along with their times and locations. And store that in your clutch for easy access. Four years ago, we made a not-so-solid plan, more of a loose guideline. Big mistake. This year, we're armed and ready with a full two-page worthy plan of what to make sure we do, what times, and how to get there. (Don't forget to factor in the time it will take to wait on lines!)
4. Comfortable clothes/shoes.
Sure, you want to look cute while walking around and meeting other authors and bloggers, but you want to be comfortable too! Go for some comfy-yet-causal styles such as leggings, comfy flats, or sneakers. (We seriously recommend sneakers. Blisters are not a fun way to spend your day.)
5. A sweatshirt.
Because yes, contrary to popular belief, it does get chilly in the Javits Center. It was pretty sweltering on the show floor, so we recommend something short-sleeved, but definitely bring a sweatshirt because the main stage area is a bit chilly! Layering is always a great idea.
6. Deodorant.
Even though it may get chilly inside the stage room, the crushing crowds cause people to stress and sweat. Plus, since you're going to practically be squashed in with everyone, you want to make sure that you smell nice.
7. Cash.
There's no set amount that you need to bring with you, but lunch is expensive at the Javits Center, so if you don't plan on bringing your own lunch, bring a decent amount of dough with you! There are also a lot of hot dog carts and food vendors outside of the center if you want to avoid super high prices in the food court. Even if you do bring your lunch, bringing $40-$50 along with you is helpful for buying books, paying for luggage storage, grabbing an extra drink/snack, or (of course, duh, because this is BookCon, people!) buying some books. Especially now that you have to buy books for certain autographing sessions!
*Le sigh. We wish that was how it worked*
8. Any books you want to get signed.
BookCon is going to be absolutely stuffed with amazing authors (especially our favorites!), so if you know that any of your favorites are going, toss a book of theirs in your bag to get signed. Seriously. Even if you know they aren't doing an autograph session, because you never know! Some autographing lines let you bring books from home to get signed, which is awesome. And you run into plenty of people on the show floor! (We ran into Adam Silvera several times, just milling around the show floor, and we wish that we had brought our books from home to get signed!)
9. A lunch and some light snacks.
The Javits Center has some nice food selections if you'd like, but they're pretty pricey and lines can possibly be miles long. Chances are, time that you will spend waiting on line at the food court is time that you could be using to check out some more amazing things that BookCon has to offer. So bring your own lunch/snacks/drinks along with you so you can eat quickly and then go back to having an awesome time.

Packing a lunch or some snacks and eating them while on an autographing/panel line or while you have time to kill is the best option.
10. TWO water bottles.
Because dehydration is a nightmare, and you don't want to get sick on an awesome day like this. One water bottle was what we recommended in the past, and it wasn't enough.
11. A

portable

phone charger.
Portable chargers are literally the 8th wonder of the world, so charge one up the night before and bring it along with you just in case your battery percentage dips into the single digits while you're out having fun.

There are really no available outlets for you to charge your phone anywhere, so bring a portable charger with you and plan to use that. Charge your phone for as long as possible on the train or in the car or in your hotel room, keep your brightness down, and only use it when you have to. The service in the Javits Center is spotty at best and your phone battery experiences some serious drainage.
12. Business cards.
If you're a book blogger, this event is one of the most perfect places to get the word out about your blog. Print up some business cards and bring them with you so you'll be ready to pass the word along!
13. Pen/pencil and a Sharpie.
You never know when you'll need a pen, and that applies to all areas of your life!
14. Makeup/Hairbrush
As previously mentioned, you'll get pretty sweaty/disheveled during this entire ordeal, so these items are a must if you plan on slipping into the bathroom and freshening up before meeting your favorite author.
15. Some friends!
Because a bookish event is always better with your buddies.
16. Hand sanitizer.
You're going to want it if you'll be sitting around on floors all day!
17. Yourself, ready for an awesome time!
Because this is going to be an awesome day!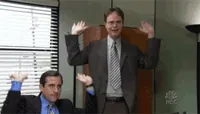 Hopefully this packing list for BEA/BookCon helped you all out! Comment below and let us know what we left out that needs to be added to the list, your opinions on the list in general, or how excited you are for BookCon! Also make sure to share this post, because we want everyone to get to see this handy-dandy packing guide not to endorse ourselves, but to help everyone make sure they're prepared for the best days of the booknerd year! Can't wait to see all of you this year! :-) We'll also be at BEA, so hopefully we'll catch some of you there, too!