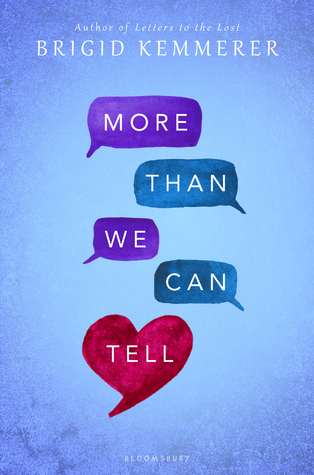 Title:
More Than We Can Tell (Letters to the Lost, #2)
Author: Brigid Kemmerer
Publisher: Bloomsbury Children's
Rating: 5/5 Stars
Hardcover, 416 Pages
Published March 2018
Summary:

Rev Fletcher is battling the demons of his past. But with loving adoptive parents by his side, he's managed to keep them at bay...until he gets a letter from his abusive father and the trauma of his childhood comes hurtling back.

Emma Blue spends her time perfecting the computer game she built from scratch, rather than facing her parents' crumbling marriage. She can solve any problem with the right code, but when an online troll's harassment escalates, she's truly afraid.

When Rev and Emma meet, they both long to lift the burden of their secrets and bond instantly over their shared turmoil. But when their situations turn dangerous, their trust in each other will be tested in ways they never expected. This must-read story will once again have readers falling for Brigid Kemmerer's emotional storytelling.
Before I get into this review, it's important to note that, according to the book's description, while this book exists in the same universe as Letters to the Lost, it is a standalone title!)
Okay. Now time to get into the actual review!
I had no idea about this book before it came in my March Scribbler box, but once I picked it up and started reading, I became so glad that I did. This book immediately sucked me in as a story that was super gripping, emotional, and heart-wrenching all the way through -- which was exactly its purpose, especially since March's Scribbler theme was "emotional touchpoints"!
As the summary explains, Emma is a gamer who is struggling to get along with her mother while also dealing with online harassment in the video game realm that she worked hard to create all on her own. Rev is battling some horrible, horrible demons from his past, and then he crosses paths with Emma, and their lives become intertwined as they lean on each other and work through their dark struggles and pasts together. But things get more complicated as the story goes on, and not everything is so black and white...and what ensues is intricate, complicated, and highly, highly emotional.
Oh my gosh guys, I absolutely loved this book. Like I said, I wasn't sure what to expect at first, but I ended up finishing this book and not having a doubt in my mind that it was a five-star read. As soon as I finished reading this book, I texted Amber and Emily (and my boyfriend!) and told them that they needed to pick up this book ASAP, because it was going to bring them on an emotional journey like no other. And that's exactly what this book did. Brigid Kemmerer has a way with words and stringing together emotions that will have you an emotional, messy puddle of feels and sadness. But it's also filled with so much happiness and joy and love. There's seriously an entire array of incredible emotions in this book that are hard to put into words without experiencing it for yourself!
(Side note: I'm sorry that I'm so terrible at writing reviews for 5-star books. All I want to do is fangirl and say ASDFGHJKKL I LOVE THIS BOOK GO READ IT RIGHT NOW!!)
Okay. Back to the review.
My favorite character in this book was definitely Rev. He was deep and dark and brooding and super emotional, but seeing some of the story in his perspective really gave a lot of depth to his character. He was really sweet with Emma when they interacted, and I found myself falling for him almost immediately. I really, really loved him. And the way he was with Declan and Matt...ugh. My heart is exploding already just thinking about him right now. He was absolutely my favorite!
There was absolutely nothing I disliked about this book. It had me hooked and I finished the entire 400-page book in two days because I couldn't put it down and just wanted to keep reading. I even had to pace myself because I was tearing through the book at a rate that was causing me to want to stay up late/not sleep even though I had a bunch of finals and classes. I found myself absolutely hooked on this book. I missed that feeling of staying up late because I couldn't put a book down -- and More Than We Can Tell brought that feeling back for me, which I am so grateful for.
Major spoilers in this paragraph, so please skip to the next one if you don't want the book ruined for you! The ending of the book absolutely caught me by surprise, and I found myself gasping out loud and gripping the book tighter with every turn of the page. I knew something was weird about Ethan, but I wasn't expecting it to escalate the way it did until he actually showed up at the church, and then I started getting a bad feeling in my stomach. And then as everything started happening and he started to abduct Emma, I felt my heart rate speed up and I was actually screeching out loud because I couldn't believe what was happening -- I felt like I was really on an emotional roller coaster! (Plus, this is just a theory of mine since it's never really explained, but I think Ethan may have actually been Nightmare and he created the whole situation for Emma's attention. It explains how he knew so much about her, where she lived, where to find her, etc.)
Overall, I absolutely loved More Than We Can Tell. I'm so glad that I found this book through my wonderful Scribbler box, because I was taken on an emotional journey that I hadn't originally been expecting. But now that I've finished this book, I'm weeping happy, emotional tears because I loved the ride it took me on. I absolutely loved all of the characters in this book and just how complicated and important the emotions are in this book. I've definitely learned more about emotional touch points in writing thanks to this book!
Hats off to Brigid Kemmerer -- I'll definitely be reading more of her books in the future!
*Please note that while this book was included in my Scribbler box, I was in no way expected to read/review it -- it was included to help my own writing in terms of working emotional touch points into a story! I chose to review this book all on my own. :-)