"Waiting On Wednesday" is a weekly event, hosted by Breaking The Spine, that spotlights upcoming releases that we're eagerly anticipating.
~~~~~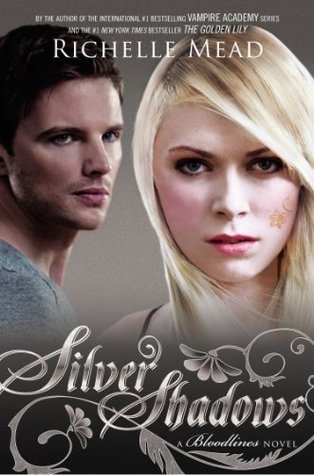 Title: Silver Shadows (Bloodlines #5)
Author: Richelle Mead
Genre: Supernatural, Magic, Fantasy
Publisher: Razorbill
Release Date: July 29th, 2014
Summary:
Sydney Sage is an Alchemist, one of a group of humans who dabble in magic and serve to bridge the worlds of humans and vampires. They protect vampire secrets—and human lives.
In The Fiery Heart, Sydney risked everything to follow her gut, walking a dangerous line to keep her feelings hidden from the Alchemists.
Now in the aftermath of an event that ripped their world apart, Sydney and Adrian struggle to pick up the pieces and find their way back to each other. But first, they have to survive.
For Sydney, trapped and surrounded by adversaries, life becomes a daily struggle to hold on to her identity and the memories of those she loves. Meanwhile, Adrian clings to hope in the face of those who tell him Sydney is a lost cause, but the battle proves daunting as old demons and new temptations begin to seize hold of him. . . .
Their worst fears now a chilling reality, Sydney and Adrian face their darkest hour in this heart-pounding fifth installment.
~~~~~
A little over two months until I can have this. Ugh. The ending of The Fiery Heart did everything but kill me. I think getting stabbed in the eye with a fork would have hurt a lot less. With so many unanswered questions and I broken heart I am hoping Richelle isn't going to shatter me to pieces with her stories once again.
Here are a few quotes I found on Goodreads:
"What is it with you and girls, Adrian, dear? Why do they either mean nothing to you or everything? It's always an extreme."

"Because I don't do things in halves, mom. Especially when it comes to love."
"Out of old habit, I put my hand on my collarbone, touching a cross that was no longer there.

Don't let them change me,

I prayed silently.

Let me keep my mind. Let me endure whatever there is to come.

"
"I took a deep breath and said: "I fell in love with a vampire."




And like that, I was blinded by light."