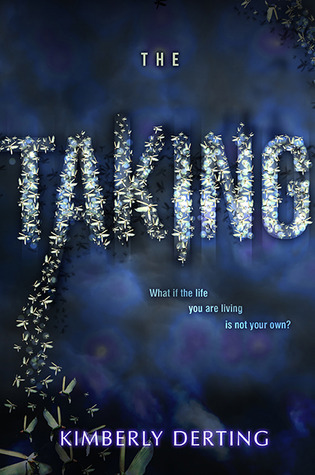 Title:
The Taking
Author:
Kimberly Derting
Genre:
Science Fiction, Paranormal
, Aliens
Year Published:
2014
Number of Pages:
368
Publisher:
HarperTeen
Summary:
A flash of white light . . . and then . . . nothing.
When sixteen-year-old Kyra Agnew wakes up behind a Dumpster at the Gas 'n' Sip, she has no memory of how she got there. With a terrible headache and a major case of déjà vu, she heads home only to discover that five years have passed . . . yet she hasn't aged a day.
Everything else about Kyra's old life is different. Her parents are divorced, her boyfriend, Austin, is in college and dating her best friend, and her dad has changed from an uptight neat-freak to a drunken conspiracy theorist who blames her five-year disappearance on little green men.
Confused and lost, Kyra isn't sure how to move forward unless she uncovers the truth. With Austin gone, she turns to Tyler, Austin's annoying kid brother, who is now seventeen and who she has a sudden undeniable attraction to. As Tyler and Kyra retrace her steps from the fateful night of her disappearance, they discover strange phenomena that no one can explain, and they begin to wonder if Kyra's father is not as crazy as he seems. There are others like her who have been taken . . . and returned. Kyra races to find an explanation and reclaim the life she once had, but what if the life she wants back is not her own?
~~~~~
I loved Kimberly Derting's The Body Finder series. So when I saw that she wrote another novel I was really excited. I was even more excited when my library finally had it.
I really did enjoy The Taking. It was about a young girl accepting her faith, and trying to make her life normal after being "returned" from being abducted five years earlier. There were many things how ever I did not liked and made this harder for me to get into the book.
First, Kyra awakens behind a dumpster 5 years after she is abducted, still in the same clothing (Softball uniform, with her hair entwined with ribbons) and looks exactly
the same. Like she hasn't aged in five years. The only person who mentions this is Tyler. I don't know about you but if someone I cared about returned after being abducted for the amount of time and still looked like they did when they were abducted I would be quote curious.
Second, Kyra was 16 when she disappeared, which was five years ago. So now she would be around 21.
"This was Tyler Wahl. Tyler, who looked far too much like his older brother—my seventeen-year-old boyfriend—in looks, in stature...and, most of all, in age.
Tyler, who, the last time I'd seen him just the day before, had been only twelve years old."
Five years and a day to be correct. Whether she looks 16 or not she is still technically 21 years old. I found it kind of weird.
Third,
The Taking
takes play over eight days. eight days. Saying "I love you" after only eight days doesn't sit right with me. On day two when Kyra started saying how she got butterflies looking at Tyler and how he made her smile I knew what was coming. I just expected it to be a lot slower. Especially she still had to deal with Austin.
Fourth, Kyra didn't make a big attempt to hear Cat or Austin out. She kept saying how they are so important to her but she wouldn't communicate with them. She avoids Cat's phone calls, when she comes to see her Kyra runs inside. I was expecting Cat to be in more of the book were she was really only in five pages. Austin was in like three.
Enough with what I didn't like. There was a lot I did like about this book. The idea especially. Alien's seem so cliche and overdone so I wasn't expecting much from this. The last thing I expected was fire flies.
I grew up with these little bugs living in my backyard. I have caught jars and jars full of them. But aliens? I really liked that idea. Though I was a bit confused. Were the fireflies aliens? Or like transporters? Lets just say I will never look at the little suckers the same again. (Though I am now really itchy after reading a certain part in the book. That would be my worst nightmare. No matter how harmless they are.)
Though I was unhappy with how fast Tyler and Kyra's romance progressed I did enjoy it, I always enjoy romance. It was cute and simple, not much of a science behind it. Never mind the fact it is her ex-boyfriend's kid brother. How crazy is that? Like the ultimate F you.
Kimberly knows how to leave us all hanging. That ending? Oh my. My heart is pounding. I need to know what happens. Like now.
All in all I did enjoy The Taking very much and I am eager for the second book in the trilogy to come out. (So far no release date)
Rating: ★★★ (3 1/2 Stars)