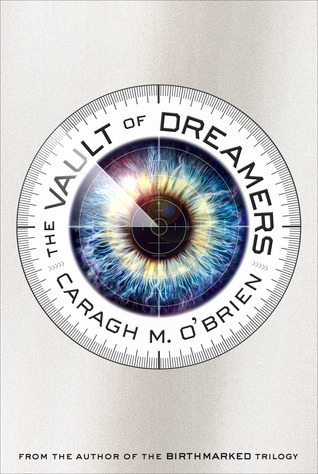 Title: The Vault of Dreamers
Author: Caragh M. O'Brien
Genre: Science Fiction
Publisher: Roaring Book Press
Publication Date: September 16, 2014
Add it to Goodreads / Buy it on Amazon
Summary:
From the author of the

Birthmarked

trilogy comes a fast-paced, psychologically thrilling novel about what happens when your dreams are not your own.

The Forge School is the most prestigious arts school in the country. The secret to its success: every moment of the students' lives is televised as part of the insanely popular Forge Show, and the students' schedule includes twelve hours of induced sleep meant to enhance creativity. But when first year student Rosie Sinclair skips her sleeping pill, she discovers there is something off about Forge. In fact, she suspects that there are sinister things going on deep below the reaches of the cameras in the school. What's worse is, she starts to notice that the edges of her consciousness do not feel quite right. And soon, she unearths the ghastly secret that the Forge School is hiding—and what it truly means to dream there.
~~~
I was disappointed in The Vault of Dreamers. I expected a lot more then I actually got. I was expecting more science fiction to it then, there was. The whole reality TV show was interesting but it wasn't enough to hold my attention. Sadly, I had high expectations of this book that were not met.
I wasn't a huge fan of the romance. It was cute, I can agree with that but I didn't think there were sparks. Rosie and Linus worked well with each other, they each held a quality that the other didn't. Rosie and Linus's on screen kiss is what kept Rosie in the top fifty ranking. But then there are trust issues and tons of unanswered questions that left me frustrated.
The whole dream harvesting / brain surgery idea was awesome! It really was and I got excited when I first read it because I thought that the book was going to take a turn. It did, for about five pages. Everything got predictable from there. Plus there are tons of unanswered questions! What happens to Linus? Is Burnham alive? Who is Numa and how is she involved?
I expected for a book that took place after 2045 to be more scientifically advanced then it was. It was like today's world, only slightly more advanced. Also, there is still Facebook in 2045? I was hugely disappointed in The Vault of Dreamers, I excepted something epic and attention grabbing but I got a bunch of blah and confusing details instead.