This month for our debut author spotlight, we're spotlighting I.W. Gregorio and her upcoming novel, None of the Above, that will be released later this month. (Amber read None of the Above and really enjoyed it - you can check out her review here!) I.W. also allowed us to conduct a brief interview and reveal an excerpt of the story...plus an awesome giveaway!
About I.W. Gregorio
I. W. Gregorio is a practicing surgeon by day, masked avenging YA writer by night. A graduate of the Yale School of Medicine, she studied creative writing at the University of Pennsylvania and Johns Hopkins University. While a surgical resident, she published in the San Francisco Chronicle, San Jose Mercury News and Washington Post. She lives in Pennsylvania with her husband and two children. None of the Above is her first novel.
Keep in contact with I.W. on her:
Now, our interview with I.W.!
First of all, what is None of the Above about?
None of the Above is about Kristin Lattimer, an 18-year-old girl who thinks she has it all... until she finds out after Homecoming that she was born with a syndrome that made her neither a girl, nor a boy, but something in between. But I like to think that the book is more about being intersex - it's about the meaning of friendship, and love, and being a woman.
Why do you think readers will enjoy None of the Above? What makes it special?
Feedback so far has been that readers really love what an eye-opening experience the book is - that it introduces them to a concept that they've never heard of or talked about, and made them really think about the gender binary and how limiting it is. But I think that people will also enjoy that it's pacy and a fast-read, and funny at some parts.
How does it feel to be a new author? What's scary about it? What's great?
The scariest thing is, of course, the greatest thing: that people you don't know are going to read your book baby. And some of them will love it, but some of them will hate it. It's a double bind, and something that all new authors face. But my daughter's five, and I've been singing a lot of "Let It Go" this year, so maybe I can take Elsa's advice!
What do you think about the relationship between the blogging community and new authors?
The blogging community is just amazing for new authors. They take the time to read early, and invest an incredible amount of thought and time in their reviews. We also love how they engage us on Twitter and on social media - and their enthusiasm and interest for our books is so, so inspiring. In the months (years) leading up to our book release, it can seem like we're writing into a void, and bloggers help us fill that void.
What's been your best experience as a new author so far?
My very first fan letter from a teen that I didn't know. I'd had a lot of feedback from adults, of course--my agent, my editor, family members and friends. But there was always the fear that I had been writing for the approval of adults, and to realize that my book can/will resonate with its actual intended audience--teens--well, that was incredibly validating.
What's been your worst?
The sinking realization that I'm not going to be able to read and support all of my debut friends' books. There are over a hundred of us Fearless Fifteeners now, and I hate the feeling that I can't read every single one of their books. Too many books, too little time! But every one I've read so far has been amazing and special in its own way - you don't get published these days if you don't have talent.
What's your advice for fellow debut authors?
Join a debut group. Not only so you can have people to commiserate with when the publishing world drives you bonkers, but because kidlit authors are some of the kindest, most generous people in the world. And keep reading, because we all have so much to learn from each other as writers.
About None of the Above: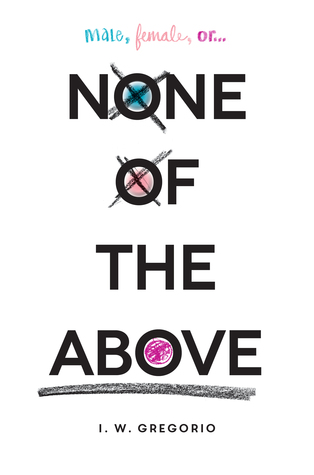 Publisher: Balzer + Bray
PUBLICATION DATE: April 7th, 2015
Summary: What if everything you knew about yourself changed in an instant?

When Kristin Lattimer is voted homecoming queen, it seems like another piece of her ideal life has fallen into place. She's a champion hurdler with a full scholarship to college and she's madly in love with her boyfriend. In fact, she's decided that she's ready to take things to the next level with him.

But Kristin's first time isn't the perfect moment she's planned--something is very wrong. A visit to the doctor reveals the truth: Kristin is intersex, which means that though she outwardly looks like a girl, she has male chromosomes, not to mention boy "parts."

Dealing with her body is difficult enough, but when her diagnosis is leaked to the whole school, Kristin's entire identity is thrown into question. As her world unravels, can she come to terms with her new self?
None of the Above Special Excerpt:
Semenya is breathtakingly butch. Her torso is like the chest plate on a suit of armor. She has a strong jawline, and a build that slides straight from her ribs to her hips. "What I knew is that wherever we go, whenever she made her first appearance, people were somehow gossiping, saying, 'No, no, she is not a girl,' " Phineas Sako said, rubbing the gray stubble on his chin. " 'It looks like a boy'—th(at's the right words—they used to say, 'It looks like a boy.' Some even asked me as a coach, and I would confirm: it's a girl. At times, she'd get upset. But, eventually, she was just used to such things." Semenya became accustomed to visiting the bathroom with a member of a competing team so that they could look at her private parts and then get on with the race. "They are doubting me," she would explain to her coaches, as she headed off the field toward the lavatory.
"So, Kristin," Dr. Shah said, "In that ultrasound I just did I wasn't able to find your uterus – your womb – at all."
"What do you mean?" I stared at her blankly.
"I want you to think back to all your visits to doctors in the past. Did anyone ever mention anything to you about something called Androgen Insensitivity Syndrome, or AIS?"
"No," I said, panic rising. "What is that? It's not some kind of cancer, is it?"
"Oh, no," Dr. Shah said. "It's not anything like that. It's just a...a unique genetic syndrome that causes an intersex state - where a person looks outwardly like a female, but has some of the internal characteristics of a male."
"What do you mean, internal? Like my brain?" My chest tightened. What else could it be?
Dr. Shah's mouth opened, but then she paused, as if she wasn't sure whether she should go on. I was still trying to understand what she'd said, so I focused on her mouth as if that would allow me to understand better. I noticed that her lip-liner was a shade too dark for her lipstick.
"Kristin. Miss Lattimer," she said. Why was she being so formal all the sudden? "I think that you may be..."
Dr. Shah stopped again and fingered nervously at the lanyard of her ID badge, and at her awkwardness I felt a sudden surge of sympathy toward her. So I swallowed and put on my listening face, and was smiling when Dr. Shah gathered herself and, on the third try, said what she had to say.
"Miss Lattimer, I think that you might be what some people call a 'hermaphrodite.'"
You can find None of the Above on:
***GIVEAWAY***
To help celebrate None of the Above's release on April 7th (and also to help celebrate debut author I.W. Gregorio herself!), we're giving away a SIGNED copy of None of The Above plus some assorted swag!