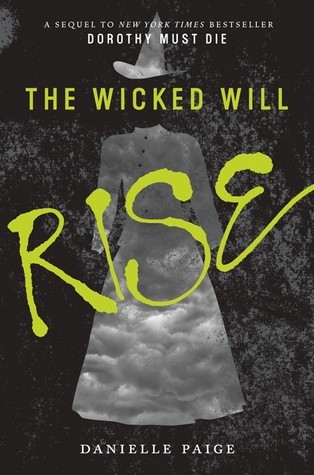 Title: The Wicked Will Rise (Dorothy Must Die, #2)
Author: Danielle Paige
Rating: 4/5 Stars
Hardcover, 293 Pages
Published March 2015
Add it on Goodreads!
Read my review of:
Dorothy Must Die (Dorothy Must Die, #1)
Summary: To make Oz a free land again, Amy Gumm was given a mission: remove the Tin Woodman's heart, steal the Scarecrow's brain, take the Lion's courage, and then Dorothy must die....

But Dorothy still lives. Now the Revolutionary Order of the Wicked has vanished, and mysterious Princess Ozma might be Amy's only ally. As Amy learns the truth about her mission, she realizes that she's only just scratched the surface of Oz's past—and that Kansas, the home she couldn't wait to leave behind, may also be in danger. In a place where the line between good and evil shifts with just a strong gust of wind, who can Amy trust—and who is really Wicked?
When I attended BookCon 2014 last year, I got the amazing opportunity to meet Dorothy Must Die's author, Danielle Paige, and obtain a signed copy. I read it immediately and couldn't put it down. Rightfully so! Dorothy Must Die ended up being one of my favorite reads of that year.
So this year, The Wicked Will Rise, Dorothy's second book in the trilogy, was released (less than a month ago), and I instantly knew I had to get my hands on it. (I actually ran out of reading material while I was in Hawaii, so I ran to the nearest Hawaiian Barnes & Noble and grabbed myself a copy!)
What I love about this series is that it isn't a retelling, per say. I've read my fair share of those and I'm never that big of a fan because I know the story already. Like retellings of Sleeping Beauty, or Little Red Riding Hood - you can change the characters and the situation all you want, but the ending will always be the same. Which is never any fun.
The difference with this series is that it answers the question of what happens after the story ends. From what we all know in pop culture about The Wizard of Oz, Dorothy gets to go home and be with her family again and everything is happily ever after. In this series, however, Dorothy gets tired of Kansas - and she wants to go back to Oz. So Glinda brings her back. And everyone is so happy to see Dorothy that they give her everything she wants.
That includes all of the power in Oz. And what may have started as Dorothy's good intentions quickly spiraled into something ten times more dangerous: she became Oz's princess (after making sure the current princess was no longer fit to rule) and practically a dictator.
So, this is the second book in the trilogy that explains what happens after the "The End" of The Wonderful Wizard of Oz. And let me just tell you, it isn't anything pretty. Amy continues her battle against Dorothy and sets out to take the Lion's courage, the Tin Man's heart, and the Scarecrow's brains. Only after she obtains all three of those items will she be able to kill Dorothy.
Only, of course, nothing ever goes according to plan. So the question you're all wondering is, does she succeed in killing Dorothy in the second book? *shrugs* I don't know. I think you need to read the book to find out.
This was a super fast-paced, violet, dark and dangerous book that pretty much nails home the fact that Oz isn't the perfect land of sunshine and fairytales anymore. I LOVED IT! Especially Amy's wit. It had me laughing the entire time.
All in all, The Wicked Will Rise was a fast-paced, thrilling and dangerous, dark and spooky read that follows up Dorothy Must Die nicely. I was a bit confused about the ending, but it holds a lot of potential for the third and final book in the trilogy, so I'm pretty excited!
Rating: