"Waiting On Wednesday" is a weekly meme hosted by Breaking The Spine where we highlight some of the upcoming books we can't wait to read!
Jessica's Waiting On: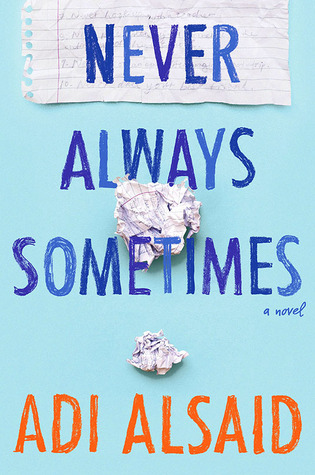 Title: Never Always Sometimes
Author: Adi Alsaid
Genre: Contemporary
Publisher: Harlenquin
Publication Date: August 4th, 2015
Summary:

Best friends Dave and Julia were determined to never be cliché high school kids—the ones who sit at the same lunch table every day, dissecting the drama from homeroom and plotting their campaigns for prom king and queen. They even wrote their own Never List of everything they vowed they'd never, ever do in high school. Some of the rules have been easy to follow, like #5, never die your hair a color of the rainbow, or #7, never hook up with a teacher. But Dave has a secret: he's broken rule #8, never pine silently after someone for the entirety of high school. It's either that or break rule #10, never date your best friend. Dave has loved Julia for as long as he can remember. Julia is beautiful, wild and impetuous. So when she suggests they do every. Never on the list, Dave is happy to play along. He even dyes his hair an unfortunate shade of green. It starts as a joke, but then a funny thing happens: Dave and Julia discover that by skipping the clichés, they've actually been missing out on high school. And maybe even on love.
I loved Adi Alsaid's Let's Get Lost, and I'm just as excited for Never Always Sometimes! Even though it's a long time until August, I'm expecting my ARC to come soon, and I couldn't be more excited about it! :D
Amber's Waiting On: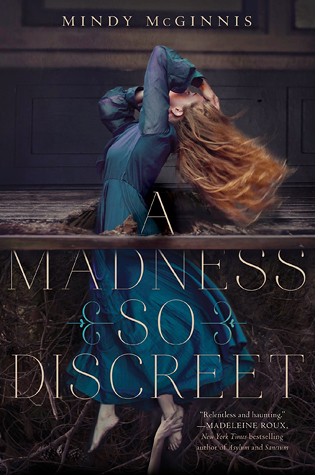 Title: A Madness So Discreet
Author: Mindy McGinnis
Genre: Historical Fiction, Horror, Thriller
Publisher: Katherine Tegen Books
Publication Date: October 6th 2015
Summary:
Grace Mae knows madness. She keeps it locked away, along with her voice, trapped deep inside a brilliant mind that cannot forget horrific family secrets. Those secrets, along with the bulge in her belly, land her in a Boston insane asylum. When her voice returns in a burst of violence, Grace is banished to the dark cellars, where her mind is discovered by a visiting doctor who dabbles in the new study of criminal psychology. With her keen eyes and sharp memory, Grace will make the perfect assistant at crime scenes. Escaping from Boston to the safety of an ethical Ohio asylum, Grace finds friendship and hope, hints of a life she should have had. But gruesome nights bring Grace and the doctor into the circle of a killer who stalks young women. Grace, continuing to operate under the cloak of madness, must hunt a murderer while she confronts the demons in her own past.
I will read anything by Mindy. I really loved both of her Not a Drop to Drink books, and was thrilled to see that she had another YA project in the works!


What are you waiting on this week? Leave your link so we can stop back!