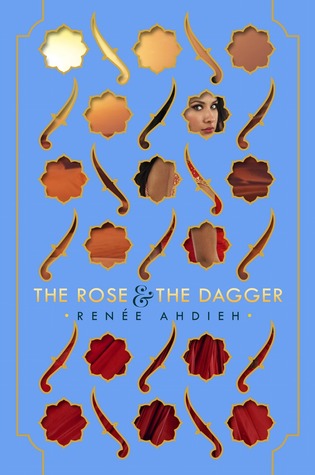 Title: The Rose & The Dagger
Author: Renee Ahdieh
Publisher: G.P. Putnam's Sons Books for Young Readers
Rating: 3/5 Stars
Hardcover, 416 Pages
Published April 2016
Summary:

In a land on the brink of war, Shahrzad is forced from the arms of her beloved husband, the Caliph of Khorasan. She once thought Khalid a monster—a merciless killer of wives, responsible for immeasurable heartache and pain—but as she unraveled his secrets, she found instead an extraordinary man and a love she could not deny. Still, a curse threatens to keep Shazi and Khalid apart forever.

Now she's reunited with her family, who have found refuge in the desert, where a deadly force is gathering against Khalid—a force set on destroying his empire and commanded by Shazi's spurned childhood sweetheart. Trapped between loyalties to those she loves, the only thing Shazi can do is act. Using the burgeoning magic within her as a guide, she strikes out on her own to end both this terrible curse and the brewing war once and for all. But to do it, she must evade enemies of her own to stay alive.
I absolutely adored The Wrath and The Dawn, so when I found out that The Rose and The Dagger was published, I practically raced over to the nearest bookstore to get it. Even though it wasn't, in my opinion, as great as the first book, it was definitely a great read where a lot of interesting stuff went down.
After the disaster in Rey, Shazi leaves Khalid behind when she flees for safety, but spends all of her time in the desert camp trying to solve things, get back to him, and help break the curse. It was interesting to see how she still acted like a spoiled, attitude-ridden girl, even though she was the Calipha of a kingdom.
The thing about this book that kept me from giving it a higher rating was the fact that I felt that it dragged at some points. One day in the book's time would span several chapters, and it felt like it would be never-ending. The actual book only spans a few weeks to a month, if I remember correctly. 416 pages for a handful of days. That's what bothered me a little bit -- this book was definitely significantly slower than the first one.
What I did enjoy, however, was Shazi and Khalid's relationship. It's definitely pretty strained and messed up a lot in the first book, and there's a significant improvement in this one. The love they have for one another is adorable, and there were several quotes in this book about love that I definitely was tempted to highlight. (However, I managed to restrain myself because of my intense love for keeping books in a pristine order.) But yeah. Their relationship certainly improved tenfold and was incredibly adorable.
(Spoilers ahead, so skip to the next paragraph if you haven't read this book yet!) The end of this book definitely through me for a loop. I was not expecting Shazi's father to do what he did to Khalid, and I nearly screamed and dropped the book, and I just remember thinking that this is not how it's supposed to end. Then everything gets solved though, and the epilogue comes around, and it's so adorable. I love getting a glimpse into their future like that, and it definitely made me smile.
All in all, I feel that The Rose & The Dagger was a suitable companion novel to The Wrath & The Dawn. From the way it leaves off, I doubt it'll become a trilogy, but that's just fine with me because I'm satisfied with how the book leaves off. If I had to choose which of the two books I liked better, it'd definitely be the first one, but this book is certainly a suitable companion novel that I enjoyed reading. Another job well done by Renee Ahdieh!