Hi guys! Today on the blog, I teamed up with Eventbrite t
o plan my dream panel for BookCon. Eventbrite is the largest self-service ticketing platform in the world, which helps people find and plan events -- things like concerts, benefits, and yes, even convention panels! So, when they reached out to us with the idea to share our dream author panel, I couldn't resist.
That's
one event us bookworms would love to attend.
I sat around for a little while thinking about this one, wondering just what kinds of things my dream panel would consist of. For starters, it would be at BookCon, since that's my favorite bookish event of the year. As for the rest of the details about this fantastic panel, here they are!
Panel Topic:
After thinking about this carefully, I decided that I wanted my panel to consist of YA romance authors. It'd be the perfect place for all the swooning teen fangirls to come together and ship their favorite characters and gush over their favorite stories. Plus, love stories are some of my favorites!
Panel Guests:
Questions/Topics to Discuss:
Which aspects of their love stories were taken from real life experiences?

Were their own romances in their personal lives as romantic as the stories they wrote?

Why do they write romance stories?

How to create the perfect (and heart-crushing) love triangle.

A quick improvised love story activity - sort of like MadLibs - where all of these authors have to work together!

And of course, a Q&A session for all of the fangirls!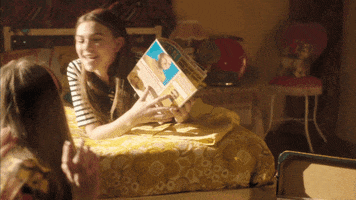 Moderators:
Maureen Johnson would definitely have to be one of the moderators of this panel, because I follow her on Twitter and she's absolutely hysterical, and she's also very good friends with John Green, so it'd make for an interesting and humorous time. Another moderator would be Margot Wood, because she's one of the funniest/best employees over at Epic Reads, and definitely one of my favorites. She's so personable and goofy that it'd be great to see her interact with all of these authors.
This was such a fun project, to be able to have full creative liberty in choosing the details of my dream BookCon panel! And if you, like me, create your own con ideas and want to bring them to life, they also have special conference management tools as well.
Another thank you to Eventbrite for partnering with us to bring you this post today! ♥ Now BookCon, I'm just waiting on you to make this event a legitimate thing!