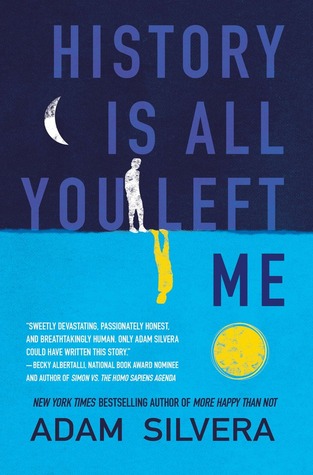 Title: History Is All You Left Me
Author: Adam Silvera
Publisher: Soho Teen
My Rating: 4/5 Stars
Hardcover, 296 Pages
Published January 2017

Summary:

When Griffin's first love and ex-boyfriend, Theo, dies in a drowning accident, his universe implodes. Even though Theo had moved to California for college and started seeing Jackson, Griffin never doubted Theo would come back to him when the time was right. But now, the future he's been imagining for himself has gone far off course.

To make things worse, the only person who truly understands his heartache is Jackson. But no matter how much they open up to each other, Griffin's downward spiral continues. He's losing himself in his obsessive compulsions and destructive choices, and the secrets he's been keeping are tearing him apart.

If Griffin is ever to rebuild his future, he must first confront his history, every last heartbreaking piece in the puzzle of his life.
I've been a fan of Adam Silvera ever since I read More Happy Than Not (and my review can be found here). So when I heard about History Is All You Left Me, I immediately jumped at the chance to add it to my TBR. (I also did this with They Both Die At The End, but I have yet to get my hands on that one, so that's a story for a different time.) Anyway, Silvera's writing style is just so relaxed and comfortable that I truly feel like I am in the character's head. He also includes a lot of plot twists and elements into the story that keep you on the edge of your seat, so reading one of his stories is always a good time.
As the summary explains, Griffin and Theo were madly in love and having a wonderful, adventurous, spectacular life before Theo got accepted to college and moved all the way from New York to California. And once he got there, he met a boy named Jackson, and slowly but surely started falling in love all over again and leaving Griffin behind.
And then Theo dies in a tragic accident.
And if that isn't enough for Griffin to handle, now Jackson's in New York.
So...yeah. The story starts off in a pretty messy situation. And it's highly uncomfortable for everybody involved.
Overall, I really enjoyed this book. There were some parts that I wasn't too keen on, which I'll explain first, but then I'll wrap up this review with the aspects of the story that I really enjoyed, because after all, I gave this book four stars for a reason!
For starters, I didn't like Theo's character at all. I felt that at times he could be indecisive, clueless, and super selfish. I mean, he told Griffin he loved him and that he always would, and then less than two months after leaving, he falls for a different boy. And to make things even worse, he still tries to be close with Griffin (even going as far as to kiss him when he comes back for a visit) while this is going on. Throughout the entire story it just seemed that Theo was being totally indecisive and acted as if he could get whatever he wanted -- get the best of both worlds, Hannah Montana style -- with zero repercussions. And that was a serious thing that bothered me about his character. Of course it was upsetting that he drowned, and nobody deserves to die by any means, but the parts of the story where Griffin was thinking about how great and wonderful Theo was made me pause. Because while there were many positive aspects of Theo, the decisions he made regarding Griffin and Jackson were very selfish. I guess I didn't like him that much because in my own personal opinion, if my boyfriend was in limbo between me and another guy, I'd let him have the other guy without question, because nobody that truly loves me would ever even contemplate the idea of trying to fall in love with another guy. I guess since that's how I would personally handle it, that's why I didn't like Theo's character very much.
I also wasn't a big fan of Jackson. In addition to being the "other man" in the situation, I was severely turned off to him the moment that he had told Theo to cut Griffin out of his life. Newsflash: If your significant other ever tells you to cut certain people out of your life, whether it be friends or family or whoever, you break up with them immediately. Nobody has immediate control over your life except you. And anybody who tries to take that control is not somebody worth having aroumd.
Minor spoilers ahead, so please skip to the next paragraph if you haven't read the story yet! I got really confused towards the end, when everything basically seemed to turn into a sex-fest. Griffin slept with Jackson, and then you find out that Griffin had been sleeping with Wade for awhile, who you didn't even know was gay until this is revealed -- and it was all just a little confusing. However, I was sort of expecting something like this, being that Silvera's previous book had a mind-bending plot twist towards the end, so I figured that it was just a matter of time. However, I still can't say I ever expected the Wade thing. So I was delightfully surprised. Also, I'd like to briefly point out that if I ever hopped on a plane to California without telling my parents and they found out, I would've been killed on the spot. So it was so weird (and possibly a touch unrealistic) to see how Griffin got away with a stunt like that so easily. (Although I wish I could get away with stuff like that -- I'd take another plane back to Hawaii right now!)
I felt that the duel perspective of the story between the past (the "History") and the present (the "Today") was very interesting. You get to see the amazing, happy life that Griffin and Theo had before all of this drama went down, and then you are brought back to the present to see how much of a struggle it really was for him and everybody that Theo left behind.
It was also interesting that Griffin was dealing with his grief while also having mental tics such as OCD. I feel that these elements added to the complexity of his character, which made this story much more than just a boy grieving over the tragic death of his boyfriend. In addition to handling the grief of being left behind, Griffin also had to handle the complexities of his mental illness, which was just another struggle loaded onto this poor guy's plate.
All in all, I really enjoyed History Is All You Left Me. Adam Silvera is a spectacular writer and this is the second story of his that I read and got hooked on, so I will definitely say that I'm looking forward to reading more of his work in the future! If you are on the fence about reading this book, I definitely recommend putting it on your TBR. You won't regret it!