In 2019 our goal is to work with as many debut authors as possible and spread the word about their debut novels. Follow us this year as we pick the mind of the 2019 debuts and chat with them. Also stay tuned for news of giveaways, Twitter chats and more!
Over the summer of 2018 we had Tweeted about wanting to discover more debut authors and their books and Lillie Vale responded with her novel SMALL TOWN HEARTS, and we have been interested in it ever since. We are so excited to have L.D. on the blog today to answer some of our questions!
About Lillie!
Lillie Vale, upon discovering she could not be one of Santa's elves or attend Hogwarts, decided to become a writer to create a little magic of her own. Enjoying the romantic and eerie in equal measure, she's probably always writing a book where the main characters kiss or kill. Born in Mumbai, she has lived in many U.S. states, and now resides in an Indiana college town where the corn whispers and no one has a clue that she is actually the long-lost caps lock queen.
Interview!
The Book Bratz:
First of all, congratulations! How does it feel to be a debut author?
Lillie:

Exciting! But even that word falls short, haha! It's one of the best, most indescribable feelings in the world to know that something so dear and so personal to you is going to meet the rest of the world. I imagine it's a lot like being a mama bird and pushing a (book) baby out of the nest, trusting that it will be all right. Mostly, it's a lot of gratitude, anticipation, and a tiny bit of impatience for March 19 to roll around!
The Book Bratz:
In your opinion, what is the hardest part of the writing process? What's the easiest?
Lillie:

I definitely think that varies from book to book. I have to relearn a new way to do things for each manuscript. One of my current WIPs was marinating in my head for years. As a result, I feel like I know it inside and out. I can see the television series playing out in my mind (I've already dream-cast everyone, obviously!). But drafting is a little bit tougher because whatever I write has to measure up to what I'm visualizing for me to be happy with it!

In contrast, the first draft of Small Town Hearts was a breeze to write. I was a pretty dedicated pantser, and that draft was all about inspiration and exploration. I loved every minute of it. When my book sold, it underwent significant revisions, which meant gutting out entire chunks, changing character motivations, back stories, subplots, and the story itself. "Getting to know" my book again was the hardest part of the process, and I wouldn't have been able to do it without holding on tight to the heart of the story—Babe, her relationship to the town she loved, the friends she was on the outs with, and most of all, herself.
The Book Bratz:
Where did you get the idea for SMALL TOWN HEARTS?
Lillie:

I've always loved names and their etymologies… my browser history's long line of baby name websites can attest to this! There's a particular kind of satisfaction that fills me when I find that perfect name that captures my main character to a T. I usually get the idea first, then tackle names second. This time, it worked the other way around. Babe's name inspired the story for Small Town Hearts 100%.

Babe's first name, Barbara, is arguably not the trendiest millennial name in YA. It's always a name I've loved, though, because of its possibilities. As someone who's never had a satisfying nickname of her own, I like to tickle myself by thinking up possible modern variations of traditional names. "Barbie would be a great name!" I remember myself saying. I just couldn't see myself typing it over and over for the whole book. And then…"OMG, what if her name was Babe and wouldn't that be SO COOL because Levi could totally think she was being hit on when she actually wasn't?!?"

Now, Levi was a minor character from a first draft of another story I wrote. I fell in love with him there and realized I could transplant him to his own story (see, Levi was a good example of a side character who was more compelling than the main characters, and I realized that his story was the one I really wanted to tell).

Going into the book, I only knew I wanted a slightly sad, very cute artist to wash up on the coast of Maine and fall in love with a local girl. Once I had finished cackling to myself over the cleverness of Babe's name, the rest of her character—and the story—evolved from there.
The Book Bratz:
Who was your favorite character to write in SMALL TOWN HEARTS? Who was the most difficult?
Lillie:

I loved writing all the characters! Obviously, Babe and Levi hold the biggest place in my heart, but Penny is a very, very close second. Erm, third? I LOVED writing her scenes and her dialogue. She wasn't really the book's antagonist, but she was a source of conflict for Babe. The internal conflict was Babe's love and co-dependency battling with guilt, while the external conflict was Penny's anger at what she perceived as Babe's betrayal in kissing their mutual BFF Chad only minutes after he and Penny had broken up. It was a balancing act to make sure Penny had the page time to be rightfully angry, while at the same time not villainizing her to the point that we couldn't sympathize with her hurt feelings.
The Book Bratz:
What made you decide to set the book in the summertime?
Lillie:

I love exploring setting, nature, and the change in seasons. Summer into fall, especially, is my favorite. But it's not Babe's favorite…because it means her friends will be starting college without her, and she's freaking out about what that will mean for their friendship. If only summer could be endless, right? So when better to set the book than the last "perfect" summer before everything begins to change for her?
The Book Bratz:
What do you hope readers will take away from reading SMALL TOWN HEARTS?
Lillie:

I think a lot of Babe's struggles could apply to teens and young people today. Leaving high school, the friends we've known for years, and even our hometown (and fam!) can be terrifying. It's a huge life transition that we aren't taught how to deal with. We spend four years in high school preparing ourselves academically for ~the real world~ but once we get there it's like see ya! Many teens, whether they go to college or not, may find themselves losing their support system.

How do we hold on to friendships when we're miles apart? How do we know when to let go? Babe, for whom remaining in the work force is not only a pragmatic choice, but the one that will allow her to work at the coffee shop she loves, The Busy Bean, is terrified of the new changes that will affect her friend group. She's going to be the one left behind, and she has no idea how to deal. I hope readers can take away that change can also be an opportunity for growth, that friendship can be tested without breaking, and that sometimes, we may have to untangle ourselves from our comfort zone in order to become the person we're meant to be.
The Book Bratz:
Do you plan on returning to the world of SMALL TOWN HEARTS in the future, or do you have other projects in mind? Can you tell us anything about them?
Lillie:

Never say never! I'd always envisioned Small Town Hearts as a series of standalone books, each featuring a new couple with old favorites making cameos in the background (Babe's coffee shop, The Busy Bean, would make a great Central Perk-like location for everyone to hang out!). I had a bunch of great ideas for this, and it may be something I'd like to revisit in the future! For now I'm really excited about my WIPs, many of which are vastly different to my debut, and an #ownvoice Desi rom-com ;)
About SMALL TOWN HEARTS!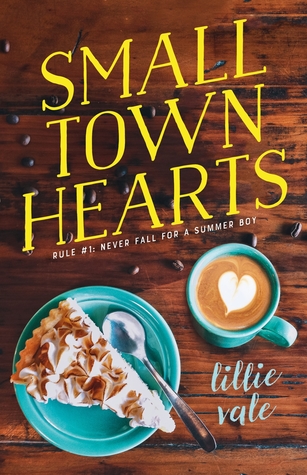 Title: Small Town Hearts
Author: Lillie Vale
Publisher: Swoon Reads
Publication Date: March 19th
, 2019
Summary:

Fresh out of high school, Babe Vogel should be thrilled to have the whole summer at her fingertips. She loves living in her lighthouse home in the sleepy Maine beach town of Oar's Rest and being a barista at the Busy Bean, but she's totally freaking out about how her life will change when her two best friends go to college in the fall. And when a reckless kiss causes all three of them to break up, she may lose them a lot sooner. On top of that, her ex-girlfriend is back in town, bringing with her a slew of memories, both good and bad.

And then there's Levi Keller, the cute artist who's spending all his free time at the coffee shop where she works. Levi's from out of town, and even though Babe knows better than to fall for a tourist who will leave when summer ends, she can't stop herself from wanting to know him. Can Babe keep her distance, or will she break the one rule she's always had - to never fall for a summer boy?
Thank you so much to Lillie for stopping by and answering our questions! We are super excited about SMALL TOWN HEARTS and can't wait for it to be out in the world on March 19th
!