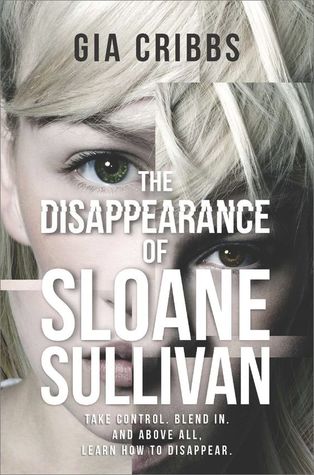 Title:
The Disappearance of Sloane Sullivan
Author: Gia Cribbs
Publisher: Harlequin Teen
Rating: 4/5 Stars
Hardcover, 384 Pages
Publication Date: May 29th, 2018
Summary:

No one wants me to tell you about the disappearance of Sloane Sullivan.

Not the lawyers or the cops. Not her friends or family. Not even the boy who loved her more than anyone. And most certainly not the United States Marshals Service. You know, the people who run the witness protection program or, as it's officially called, the Witness Security Program? Yeah, the WITSEC folks definitely don't want me talking to you.

But I don't care. I have to tell someone.

If I don't, you'll never know how completely wrong things can go. How a single decision can change everything. How, when it really comes down to it, you can't trust anyone. Not even yourself. You have to understand, so it won't happen to you next. Because you never know when the person sitting next to you isn't who they claim to be...and because there are worse things than disappearing.
I received an ARC of Sloane Sullivan in exchange for an honest review, and I really loved this story. I'm so glad that I had the chance to review it! I am a huge fan of stories about people on the run (think The Rules for Disappearing or Genuine Fraud), so I was super excited when author Gia Cribbs reached out and asked me if I would like to review it. I was really honored, and really eager to get started. And once I did, I couldn't put this book down -- even when I had to! (But more on that later.)
As the summary explains, Sloane Sullivan is the 19th identity that this young girl (who you don't know the true name of for awhile) has taken on. She witnessed something terrible many years ago, and she's been in the Witness Protection Program (dubbed WITSEC) ever since, on the run with her agent, Mark, trying to keep herself safe while hoping that Sloane Sullivan would become her final (and permanent) identity.
I loved how this book hooked me from start to finish. It got to the point that I had to pace myself so I didn't finish the book too fast, because it was going to be another week or so until I got my next book! So it was a bit torturous to draw it out for as long as I did, because the end of each chapter kept making me want to keep flipping and reading. The story kept building and building and new aspects kept coming into play that made everything more complicated. I seriously could not put this book down.
It was also really interesting to see how someone's life in WITSEC can be. Especially how stressful and scary! Always being on the run, never being able to stay for long, leaving your old life behind every single time...not to mention the fact that Sloane always had to look over her shoulder and make sure that she wasn't being followed by the one mob family that wanted to hurt her more than anything.
But as Sloane settles in to her new life, she bumps into Jason, not only an old friend, but an old friend from her life before WITSEC. And she can't, under any circumstances, let him remember her. But as their friendship gets deeper and Sloane notices some inconsistencies in her life, things start to make sense in regards to what happen that night that put her in WITSEC...and what you find out will surprise you.
(MAJOR spoilers in this paragraph -- please skip to the next one if you don't want the book to be ruined for you!) There were only a few things that I wasn't totally crazy about in this book. The first was that the whole scenario about Jason being in the same town as Sloane wasn't explained until more than halfway through the book. So for a good portion of the book, I was a little confused about how Jason ended up in Sloane's life when WITSEC was always so careful about avoiding people from the past. It's explained later on that it's because Jason moved to the house with his mother later on, but it was really confusing in the beginning because that isn't explained at all. And also, when Sloane is in Jason's house, she remembers all of the furniture and such. In retrospect I understand that the furniture could have been brought with them when they moved, but like I said, that wasn't explained for awhile. So I spent a good portion of this book unsure of how WITSEC made the mistake of placing Sloane in the old neighborhood that she used to live in before anything happened. So that part definitely needed a little bit of clarification.
(More big spoilers here! Next paragraph, please!) The other thing that confused me a little bit was the very end, when I found out that Mark wasn't dead. I know that Dixon was in on the scheme and everything, but...did law enforcement not have to take Mark's body away? There were some hints that nobody ever outright said Mark was dead but it just seemed a little bit...off to me. I don't know. That whole letter at the end felt like everything was wrapped up a little too neatly in a bow -- a mysterious letter that explained everything in perfect detail, a bag full of money, and then poof, gone. Book over. Time to run away and get a new life. Don't get me wrong, I totally liked the idea and was on board with it -- I just felt like the ending felt a little too rushed and wrapped up so perfectly, almost as an afterthought to tie up all of the loose ends. So that confused me a little bit, too.
But other than those two little things that confused me a bit with the book, I absolutely loved this story. Seriously. I couldn't put it down. Like I mentioned earlier, these are the kinds of stories that I live for and love to read, so I'm really grateful that Gia Cribbs gave me the opportunity to read and review this ARC. You definitely want this book on your TBR if you're looking for some thrills, mystery, and epic plot twists!
Overall, I really enjoyed reading The Disappearance of Sloane Sullivan. Gia Cribbs constructed a super fast-paced, thrilling story of secrets and new lives that kept me hooked from the very beginning all the way until the very end. And as soon as I finished reading it, I immediately recommended it to Emily and Amber, because I know this is the kind of story that they would enjoy, also. This is a really, really great, fast-paced thrill of a story. You definitely don't want to miss out on it!