Welcome to our first official post of Cover Tells All! This is a weekly meme that we created that we feel everyone is going to absolutely love. Here's how it works: We sit down with some of our friends and family and show them a few book covers that they've never seen before. The people we ask are not big readers and do not have any access to the internet or anything other than their own imaginations. Looking only at the cover of the book, they have to tell us (in the most detail possible) what they think that the plot is about. This is super fun because some people actually guess super correctly, and some answers are so wacky that they're just hard to believe. So on every Saturday we will be putting up a new #CoverTellsAll post with an interview with a whole new person!
*Note: The answers posted here are word-for-word what our friends and family guessed!
Today we have Jessica's boyfriend, Rob, here to kick off our first-ever #CoverTellsAll post!
Book #1:
A Madness So Discreet by Mindy McGinnis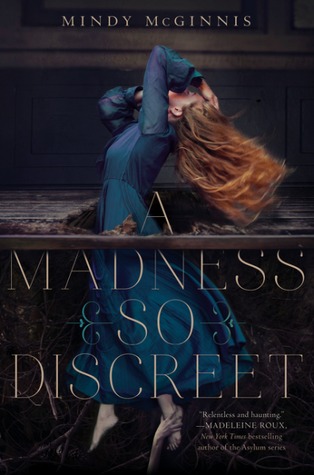 A Madness So Discreet is about a woman who lives a normal life with her family but is being torn apart by small things from her past. Despite their enormous control over her, she can't express any of her struggles. Eventually she is overcome by what she faces and no one ever finds out exactly why...
Grace Mae knows madness.
She keeps it locked away, along with her voice, trapped deep inside a brilliant mind that cannot forget horrific family secrets. Those secrets, along with the bulge in her belly, land her in a Boston insane asylum.
When her voice returns in a burst of violence, Grace is banished to the dark cellars, where her mind is discovered by a visiting doctor who dabbles in the new study of criminal psychology. With her keen eyes and sharp memory, Grace will make the perfect assistant at crime scenes. Escaping from Boston to the safety of an ethical Ohio asylum, Grace finds friendship and hope, hints of a life she should have had. But gruesome nights bring Grace and the doctor into the circle of a killer who stalks young women. Grace, continuing to operate under the cloak of madness, must hunt a murderer while she confronts the demons in her own past.
Our Judgement: Rob was actually pretty close when it came to the madness part, and about keeping her horrors locked away. Pretty good for his first attempt!
Book #2:
I Was Here by Gayle Forman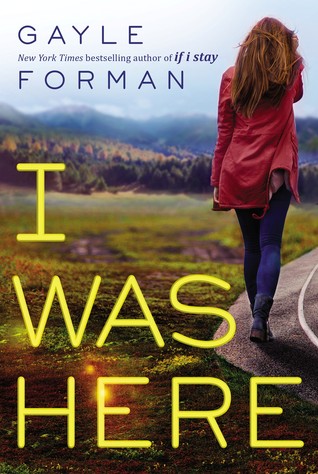 This book is about a girl who got into an accident that changed her whole life. She has memory loss and lives as if it never happened. She stumbles upon the spot the accident took place totally coincidentally. She faintly remembers this place and her journey to find out who she really is is an extremely pivotal time period in her life as she finds her true self. It seems extremely basic to me...
When her best friend Meg drinks a bottle of industrial-strength cleaner alone in a motel room, Cody is understandably shocked and devastated. She and Meg shared everything—so how was there no warning? But when Cody travels to Meg's college town to pack up the belongings left behind, she discovers that there's a lot that Meg never told her. About her old roommates, the sort of people Cody never would have met in her dead-end small town in Washington. About Ben McAllister, the boy with a guitar and a sneer, who broke Meg's heart. And about an encrypted computer file that Cody can't open—until she does, and suddenly everything Cody thought she knew about her best friend's death gets thrown into question.
Our Judgement: Little did Rob know, the book is anything but extremely basic. But we definitely admire his creativity!
Book #3:
Glass Sword by Victoria Aveyard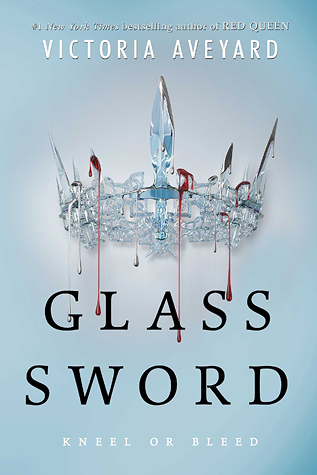 Okay, so this is the struggle of a girl getting what she wants. She has a mentality [that] "if you're not for me, you're against me." She often tries to portray herself as a nice, pure, harmless girl but deep inside she's really a plotting witch. She stops at nothing and will take down anyone who stands in her way. Eventually she reaches her goal, but not without a few scars of the horrible acts she's committed to get there.
Mare Barrow's blood is red—the color of common folk—but her Silver ability, the power to control lightning, has turned her into a weapon that the royal court tries to control.
The crown calls her an impossibility, a fake, but as she makes her escape from Maven, the prince—the friend—who betrayed her, Mare uncovers something startling: she is not the only one of her kind.
Pursued by Maven, now a vindictive king, Mare sets out to find and recruit other Red-and-Silver fighters to join in the struggle against her oppressors.
But Mare finds herself on a deadly path, at risk of becoming exactly the kind of monster she is trying to defeat.
Will she shatter under the weight of the lives that are the cost of rebellion? Or have treachery and betrayal hardened her forever?
Our Judgement:
Rob actually got really close with this one, in a weird way. He accurately described the force that Mare is fighting, but not Mare herself. It's still very impressive!
Book #4:
Cinder by Marissa Meyer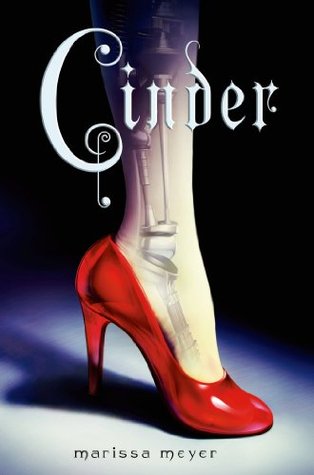 This one is about a woman. She is single. There is one thing in her life that makes her stand out and the reason behind this one unique thing developed is a substantial part of her life.
Humans and androids crowd the raucous streets of New Beijing. A deadly plague ravages the population. From space, a ruthless lunar people watch, waiting to make their move. No one knows that Earth's fate hinges on one girl.
Cinder, a gifted mechanic, is a cyborg. She's a second-class citizen with a mysterious past, reviled by her stepmother and blamed for her stepsister's illness. But when her life becomes intertwined with the handsome Prince Kai's, she suddenly finds herself at the center of an intergalactic struggle, and a forbidden attraction. Caught between duty and freedom, loyalty and betrayal, she must uncover secrets about her past in order to protect her world's future.
Our Judgement:
...He was very off on this one. LOL. And this is the one that we thought would be the most obvious!
Book #5:
The Jewel by Amy Ewing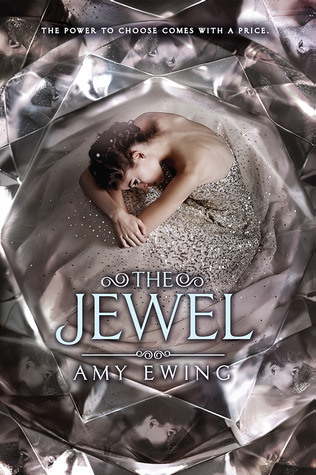 Okay, so she's a dancer that's trying to get her dream job. She puts everything on the line and eventually succeeds. Once there, she realizes that it isn't as she once hoped and the glamour she's in ruins her. LOL - this is a rough one.
The Jewel means wealth. The Jewel means beauty. The Jewel means royalty. But for girls like Violet, the Jewel means servitude. Not just any kind of servitude. Violet, born and raised in the Marsh, has been trained as a surrogate for the royalty—because in the Jewel the only thing more important than opulence is offspring.
Purchased at the surrogacy auction by the Duchess of the Lake and greeted with a slap to the face, Violet (now known only as #197) quickly learns of the brutal truths that lie beneath the Jewel's glittering facade: the cruelty, backstabbing, and hidden violence that have become the royal way of life.
Violet must accept the ugly realities of her existence... and try to stay alive. But then a forbidden romance erupts between Violet and a handsome gentleman hired as a companion to the Duchess's petulant niece. Though his presence makes life in the Jewel a bit brighter, the consequences of their illicit relationship will cost them both more than they bargained for.
Our Judgement:
This wasn't correct, but it wasn't bad, either. We could definitely see where Rob may have seen the dancer aspect - and he nailed the glamour part.
Overall, Rob did a pretty good job at being our first test subject for this. He got a few pretty right, a few others completely wrong, and certain ones where he hit the mark with some aspects and not the others. We were very impressed! We're also super exciting to be doing this every week, so comment down below with who you think we should ask next! Our sisters? Parents? Teachers? What do you guys want to see? Let us know, and thank you so much for taking the time to check out our first Cover Tells All post! What did you think of it?