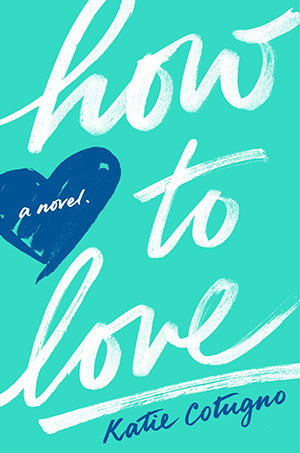 Title:
How to Love
Author: Katie Cotugno
Publisher: Balzer + Bray
Rating: 4/5 Stars
Hardcover, 389 Pages
Published October 2013
Add it on Goodreads!
Summary: Before:

Reena Montero has loved Sawyer LeGrande for as long as she can remember: as natural as breathing, as endless as time. But he's never seemed to notice that Reena even exists until one day, impossibly, he does. Reena and Sawyer fall in messy, complicated love. But then Sawyer disappears from their humid Florida town without a word, leaving a devastated—and pregnant—Reena behind.

After:

Almost three years have passed, and there's a new love in Reena's life: her daughter, Hannah. Reena's gotten used to being without Sawyer, and she's finally getting the hang of this strange, unexpected life. But just as swiftly and suddenly as he disappeared, Sawyer turns up again. Reena doesn't want anything to do with him, though she'd be lying if she said Sawyer's being back wasn't stirring something in her. After everything that's happened, can Reena really let herself love Sawyer LeGrande again?
This book has been on my to-read list for awhile now, and I finally managed to get a copy of it at The Strand a few months ago. So, needless to say, I was very excited about this one!
I really, really enjoyed this book. It tells the story of Reena, an eighteen year old girl who had big plans to get out of her small town and lead a creative, talented, traveling life. In the midst of her planning she happens to fall in love with resident bad boy and longtime family friend Sawyer LeGrande. Instead of seeing him as something to derail her plans, she goes after her goals at full force.
That is, until Sawyer takes off and leaves a pregnant, heartbroken Reena behind.
Ouch.
It's going to sound super crazy, but I really liked the relationship between Sawyer and Reena. It was far from perfect - there were plenty of other girls before her and lots and lots of let downs and heartbreak and terrible things - but reading about their relationship felt a lot more "real" than in most books. You know which books I'm talking about - the one where the Hollywood Golden Boy is absolutely perfect and witty and educated in every way imaginable. Sawyer is far from that. But even though he's pretty messed up and not great at handling things, Reena still finds herself gravitating towards him once again like she had nearly three years ago (except this time now she has their daughter). So the book is told in alternating chapters - going from flashbacks from pre-baby to current times with her daughter while Sawyer struggles to make things right again.
There are some spoilers ahead so skip to the next paragraph if you haven't read this book yet! Okay so the very end of the book made me very happy. I was rooting for Reena and Sawyer all along, and there were definitely parts of this book where I wasn't entirely sure if they were going to end up together. But in the end, when they did, I was super relieved. Their life certainly won't be perfect, and it'll definitely be a little weird, but I fully believe that they'll make it work.
The one thing that I wasn't so crazy about with this book was Sawyer himself. He was really forgetful, bounced around from girl to girl, and was kind of a jerk. There were times in the flashbacks where I was appalled at how he played Reena's heart so cruelly. He was a drug addict and a jerk, and although he had some sweet moments that made you momentarily forget that, it was still always in the back of my mind. Reena definitely deserved a lot better than she got with Sawyer, and she should've stood up for herself a little bit more than she did. (But she still did to a degree, which is more than you can say for most YA books.) But as a whole I liked the sweet moments in their relationship.
And I really wish that this book wasn't a stand-alone! I'd definitely be interested in reading about how Reena and Sawyer make their relationship work, all while they raise Hannah and Reena persues her dreams.
(Just a brief PSA: I'm sorry that this review is so sucky. My thoughts are just so scattered because I liked this book so much that I barely have anything else to say other than that I liked this boko so much!)
All in all, How to Love was a refreshing, realistic contemporary read about how to fall back in love with someone who broke your heart. It's not something that everyone would be into (because I know plenty of people that, if I were in Reena's position, would certainly make sure that I never ended up with him again), but I still recommend reading the book because you learn a lot about life, love, responsibility, and standing up for yourself. Like I said several times already, I really enjoyed Katie Cotugno's book and I really wish that there was going to be a sequel! :-(
Rating: