Welcome to the second month of The New Authors on The Block! This month we are introducing:
Tarun Shanker

&

Kelly Zekas

the authors of

These Vicious Masks

!
These Vicious Masks is Jane Austen meets X-Men in a gripping Victorian adventure!
About Tarun and Kelly:
Mild-mannered assistant by day, milder-mannered writer by night, Tarun Shanker is a New York University graduate currently living in Los Angeles. His idea of paradise is a place where kung-fu movies are projected on clouds, David Bowie's music fills the air and chai tea flows freely from fountains.



Kelly Zekas is a writer and actor living in NYC. YA is her absolute favorite thing on earth other than cupcakes and she has spent many hours crying over fictional deaths. She also started reading Harlequin romances at a possibly too early age (12?), and still loves a good paperback romance.




Tarun and Kelly met in a freshman year writing class at NYU and started writing

These Vicious Masks

a few years later. It is their first novel.

About These Vicious Masks: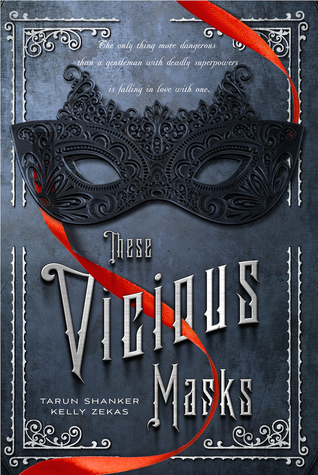 Title: These Vicious Masks (These Vicious Masks #1)
Author: Tarun Shanker & Kelly Zekas
Genre: Historical Fiction, Fantasy, Paranormal
Publisher: Swoon Reads
Publication Date:
February 9th 2016
Summary:
England, 1882. Evelyn is bored with society and its expectations. So when her beloved sister, Rose, mysteriously vanishes, she ignores her parents and travels to London to find her, accompanied by the dashing Mr. Kent. But they're not the only ones looking for Rose. The reclusive, young gentleman Sebastian Braddock is also searching for her, claiming that both sisters have special healing powers. Evelyn is convinced that Sebastian must be mad, until she discovers that his strange tales of extraordinary people are true—and that her sister is in graver danger than she feared.
What to expect this month:
February 7th:

Introduction

February 14th:

Q&A

February 21st:

Excerpt

February 28th:

Character Interview
Giveaway:
Please be 13 years or older or have a parents permission to enter

This giveaway is open to US residents or those with US mailing addresses
The Book Bratz, Kelly, and Tarun are not responsible for any lost or damaged packages.